The corporate branding module comes in two versions and lets you hide the VisionProject logo from the system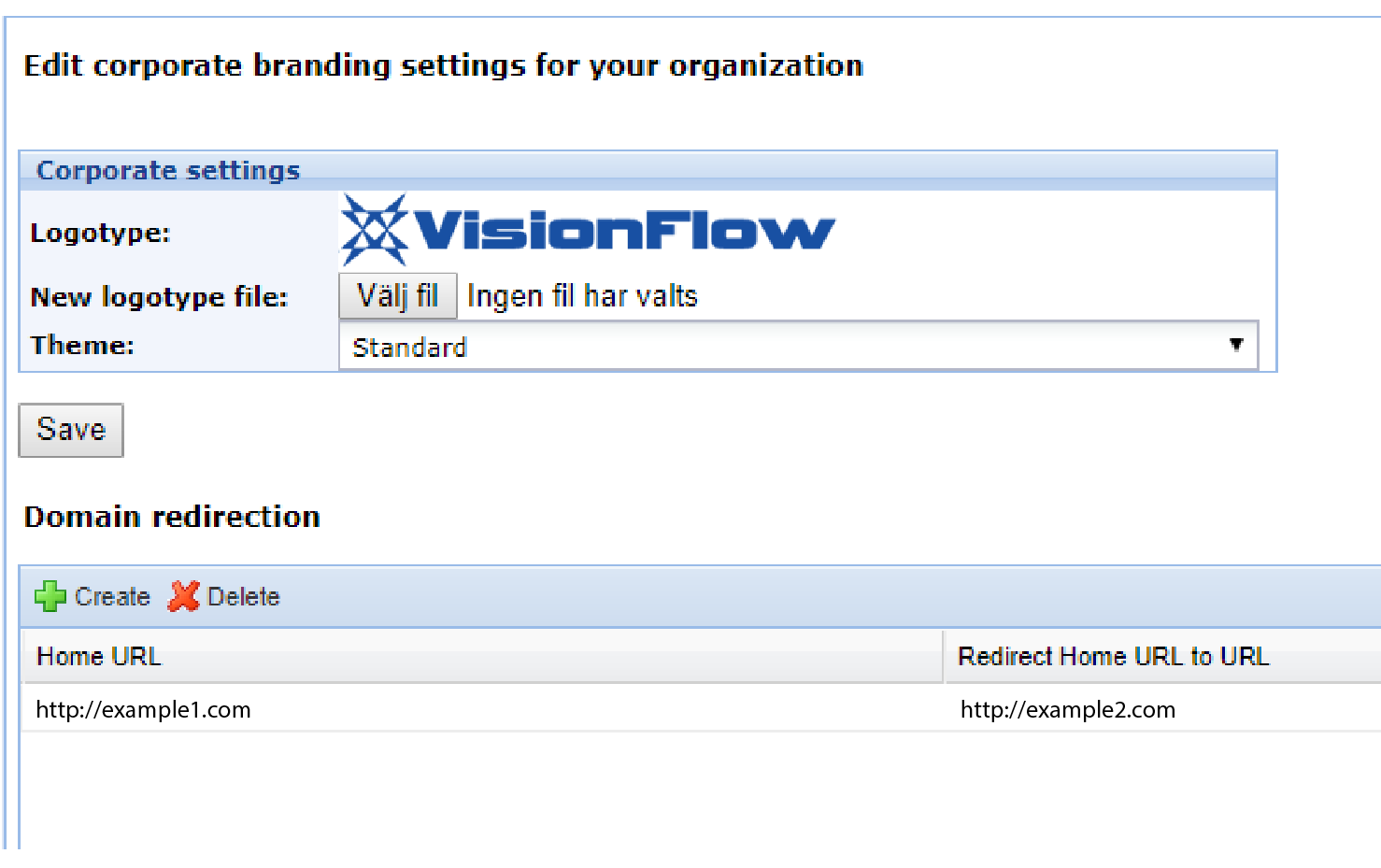 The basic corporate branding version lets you :

Replace the VisionProject logotype with your own to hide the VisionProject logotype

The complete branding version lets you :

Replace the VisionProject logotype with your own
Gives you the right hide the VisionProject URL
Allows you do redirect your domain to our servers (if you you run the hosted/SAAS version), such as support.yourdomain.com
Makes it possible for you to choose the color/theme
Makes it possible to use your domain name in links in outgoing emails, thereby hiding the VisionProject name.
Redirecting your domain to our servers (replace the URL to VisionProject with your own)
If you have purchased the complete corporate branding module you can redirect your domain to our servers, such as support.mycompanydomain.com or projects.mycompanydomain.com. Completing this task normally takes a day or two.
To do this you have to follow the steps below:
Reconfigure your DNS to point to our servers for your domain, either by:
Using an A record, using the the IP 213.132.96.72
Or, using a CNAME record to point a subdomain of your choice to www.visionflow.com
Let us know what domain you want to use by emailing us on support@visionflow.com.
We will then update our SSL certifiate on our servers for the domain you have chosen.that after this has been updated all emails from the system will also use your domain name.
The administrative/technical contact person for your domain will need to accept and verify that we use your domain. Please note that this is VERY important!
The approval is done via an email sent from our CA.
The email is sent to the TECHNICAL CONTACT person for your domain, found in the WHOIS information. Use this web page (or similar) if you are unsure who that person is: http://www.whois-search.com/whois

This normally takes a day or two.
If you want to do a redirect from your domain name directly to the login page or to one of your support centers, you can do that by adding redirects in the "Domain redirection" table, or you can ask our support team for help.
For example you can add a redirect from support.mycompanydomain.com to https://support.mycompanydomain.com/logon
Please note that the "Home URL" and "Redirect Home URL to URL" values should never be the same
Please note that the step 4 is VERY important! Unless your technical contact person confirm and accept the email sent to you (sent from our CA), the certificate will not be issued and you will receive an SSL warning when using your domain.