The List view
This is the List view' sub-tab in the Project Summary tab. The Project Summary is opened by clicking on the 'Summary' button in the Projects panel to the left.
This shows a list of all projects you have access to, with a "card" for each project.
The project list can be filtered on project category, owner company and project lead. This allows you to find the projects you are interested in.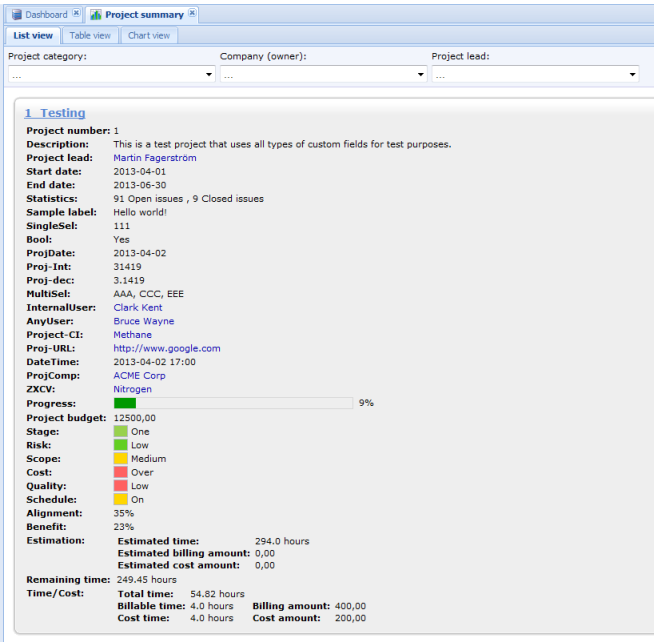 There are several fields that can be shown in a project, outlined below. If the field is not set, then it will not be visible.
Every summary contains some or all of these:
Project name. Click on the title to open the tab for that project. Always present.
Project number - The number of the project.
Description - Text description about what the project is. Always present.
Project Lead - The most responsible user for the project. Click on the name to show an user info dialog.
Start date - the date the project started
End date - the project end date, or deadline.
Company(owner) - Which company owns the project, if it is set in the project info.
Product - which product/service/asset/CI is set on the project, if any.
Statistics - shows the number of open and closed issues, respectively. Always present.
(List of project custom fields) - This section shows fields that are user-defined on the account. The fields named Sample label, ProjDate, Proj-Int, et.c. in the image, showcases the different custom field types.
Progress - a progress bar showing the percentage of closed issues compared to the total number of issues. Always present.
Project budget - this shows the budget of the project.
Stage/Risk/Scope/Cost/Quality/Schedule - These rows show the values of these fields set in the project page, with the corresponding color, if any. Note: Currently, none of these fields are calculated. You have to manually set them in the project settings.
Alignment and Benefit - these project fields are shown as percentages. Note:These fields are currently not calculated either, you set the manually in the projecct settings.
Estimation - shows the project total time, and the total cost for the project (based on time logged, and the cost per hour, as defined in Project settings - cost).
Remaining time - shows the total remaining time for the project.
Time/Cost - shows the total time reported in work logs, and also how much time was billable/costable, and the amount for each.
Expenses - Shows the costs from Expenses on the project or the project issues. This is split between the cost amount (non-billable) and the billable amount.