The hosted version of VisionProject 7.0 was released on the 9th of January 2011
See below for details about the new features and improvements in this release. If you have any questions or need some clarification in some of the areas, then just add a comment to the KB-article or send us an email.
Note! The installed version will be available during the week that starts on the 10th of January


Issue management
Improved Timeline with editing and filtering capability for resource planning
In the Timeline you can now filter and group on Projects and Owners.
You can also edit the dates with drag n' drop.
The Timeline is found in the Projects Panel on left, under Actions, giving a multi-/single-project overview.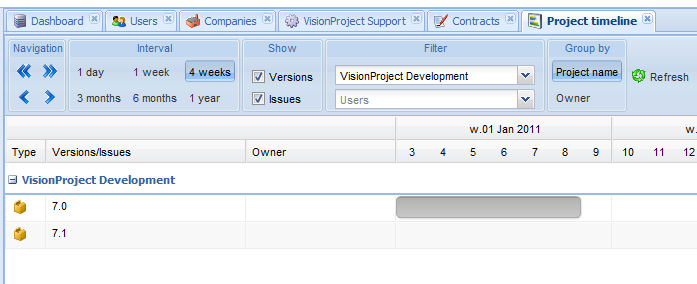 When displaying an Issue type it can now be configured to display name and not only an icon
In the account settings/issue configuration/issue types, you can now choose to configure the issue types to show both an Icon and Text or only an Icon in the issue list.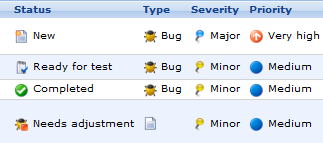 User management
GUI improvements
The GUI of the "Users"-page has been greatly improved. Now you can see the details for a user on the same page as the list of all users. The settings for the users is divided into several tabs to get an easy overview of the user and the user activity.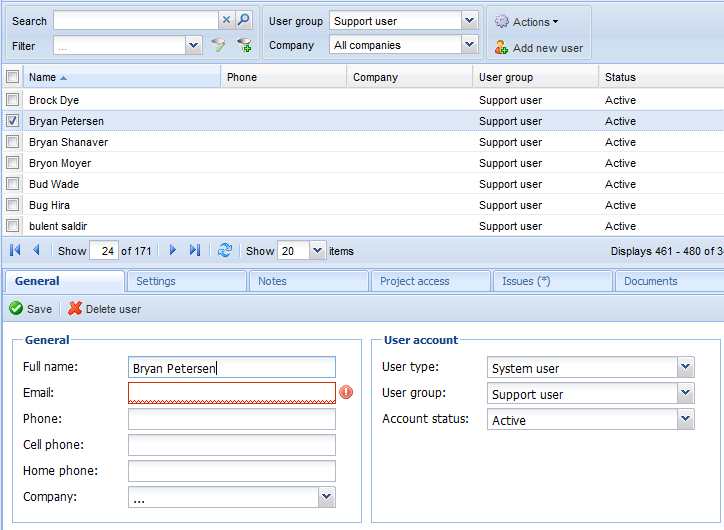 A User type can be set on a user
Two different user types is available, "System user" and "Contact". Contacts will never be able to login to VisionProject. As seen in the picture above, this is set on the General tab, in the User account area.
Note: All existing users will have the type "System user".
Search improvements
User-specifed filters can now be created for users. You can create/modify/remove filters and create the filters to search on most of the general information of the users.

Ability to add documents/files on a user
A "Windows-explorer"-like document/file section has been added to "Users", meaning you can organise the documents in folders. If you have rights to see user information, you have rights to see everything for the user, including the documents saved on the user. As for any place in the system managing documents, you can here store any type of file.

Ability to view issues directly when viewing a user
When you are viewing a user you can now view the issues(in the issues tab) that has been created by the user directly in a "user-tab".
You are here also able to add issues from the user. By clicking "New Issue", the user will automatically be set as the reporter.


Email ticket system
CC-addresses are now stored on the issue
If an incoming e-mail contains CC-addreses they will be stored on the issue and when you do a reply you will have the ability to do "Reply to all", which will then include the recipients in the CC-address field. "Reply to all" will send an email to all users that have been involved in the issue since it was created.

Spam and security Improvements
To make it easier to block spam emails from certain domains sub-strings are now supported in the blacklist such as *@spamdomain.com
To make sure you don't get any emails from unwanted people, you can now block emails (categorize as spam) for users that
Doesn't work on a certain company
Users/contacts that aren't already registered in the system
Users/contacts that aren't already registered on the project
To make sure you don't accidentally give access for users to your support center you can now set what user type should be used for new users ("contacts" can't login)
Batch "Reply to correspondent", i.e. send the same reply for multiple support issues
You can now send the same reply to multiple support issues. This feature is available in the context-menu in the "Issues-tab".

Miscellaneous
Report improvements
You are now able to create multi-project reports for all SLA reports and all Issue reports.
The report "Product Issues" now takes data from one or more projects, enabling total multi-project overview for configuration items.
A new report, "Project Status" is created. This report enables you to get an overview of one or all projects. You can choose to only get an overview of one specific company's projects.
The report will show you:
Project summary information
Issue graphs and version timeline graph
List of issues that are (during the period chosen)


Overdue
Completed
Planned
Created
Documents on Contracts
"Windows-explorer"-like document/file section has been added to "Contracts", with the same looks and functionality as shown above for User Documents. This enables you to store any files/documents connected to the contract, such as contracts with full specifications.
Ability to publish the project calendar in iCalendar format
You can now publish a project calendar in iCalendar format as well as download a iCal-file that can be imported in your iCalendar compatible calendar application. This is done on the project information page, using the buttons on the top right of the calendar.