What are work log categories?
Work log categories are a way to group work logs according to a theme and are used for sorting the work logs. VisionProject doesn't come with any work logs by default.

Active: Only active work log categories can be chosen when you create a work log. It is useful to inactivate older categories that you do not want to use. Those categories can then not be used in new work logs, but remain on old work logs.
The table in the page shows all current work log categories. You can do the following:
Add: click on the link 'Add new' in the header, to create a new category. You will get a dialogue where you can enter the name and description. Press Submit to save the work log.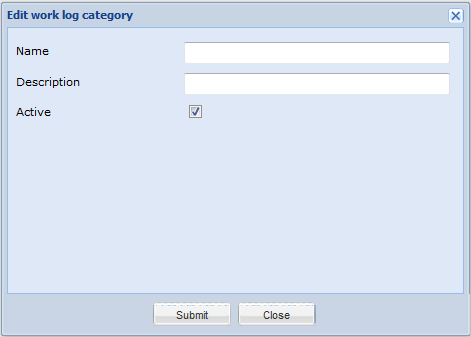 Edit: click on the edit icon for the category in the table, to open the dialogue. Edit name/description, select active/inactive status, and press submit.
Delete: click on the delete icon in the category table to remove the category to remove the work log category.
To be able to use a work log category in a project you also need to select it under Your project > Settings > General > Issue timer/Work log settings.