The hosted version of VisionProject 6.4 was released on the 31th of October 2010
See below for details about the new features and improvements in this release. If you have any questions or need some clarification in some of the areas, then just add a comment to the KB-article or send us an email.
Note! The installed version will be available during the 1st week of November


Issue management
Planning board

The planning board is a new issue/task view that enables you to schedule and prioritize issues very easily using drag and drop, some of the capabilities include:
You can change the rank of the issues/tasks directly in the table list by dragging and dropping them verticle in the table (you will need the rank field for this)
You can plan an issue/task for a specific iteration/verision by clicking and draging it to one of the iterations/versions on the right hand side
You can see the capacity of your team and the current work load directly on the iterations/versions
You can right click on an issue and change any data on it using the context menu (or open it in a new tab)
You can edit Estimated time and Remaining time directly in the Planning board. Just double-click in a cell, update the value and then move the focus from the cell and the value will be updated.

Ability to specify a group as an "issue owner"
A new field "owner group" has been created, and can be added to your issues. This makes it possible to assign issues to user groups in a standardized way. This is useful in many scenarios, such as when you want to handle 1st line and 2st line support, or assign issues for testing to a test team. The owner group can also be used in the workflow and escalations, enabling you to have the issue to automatically be assigned to a team if certain rules apply.
Issue links is shown directly in issue lists

To get a great overview over all linked issues you can enable the "issue link icon" (in your user profile). This is very useful in many scenarios, such as for incident and problem management, to see all incidents liked to a certain problem. The link shows all copies of issues that have been made to other projects and in what way information are copied between the issues.

Document management
Read-only on documents
You can now set a document/file to be read only for certain users or user groups

Company management

Export companies
It is now possible to export one or more companies from the table

Project management
Budget on project
To enable the possiblility to budget a project, a budget field has been added on projects.
Project summary - filter on project category
It is now possible to filter the projects by project category.

Miscalleneous
AND/OR searches
You can now perform searches and create filters with AND/OR.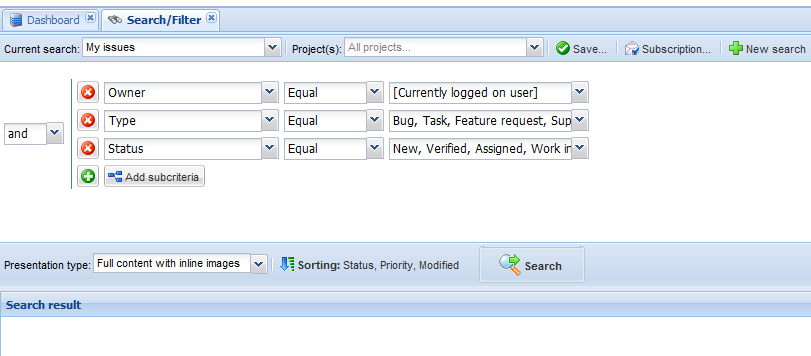 Upgrade to Ext JS 3.2
VisionProject now uses Ext JS 3.2.1.
Improved reports, diagrams and metrics
There are now a lot more reports available.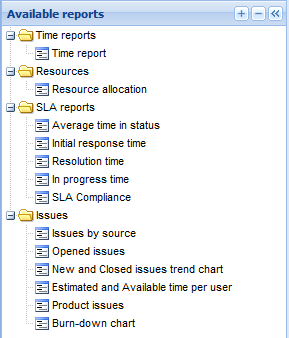 Auto-refresh of Dashboard portlets
"Issue portlets" in the Dashboard will now be auto refreshed every 5 minutes as well as when the Dashboard becomes active.
Forums Read-only
You now have the possibility to set forums to be read-only for specific users or user groups.