The advanced Search page is where you can do complex searches and create filters/saved searches
The Search page - "Advanced search" in comparision to the quick search, allows you to create complex searches and save them as filters if you want to.
More details in the older search page.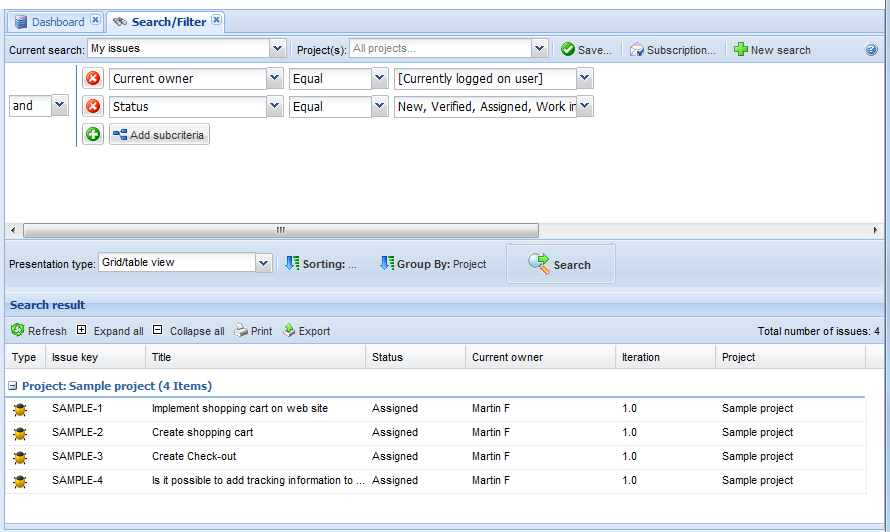 As you can see, the page is basically divided in two halves - one for choosing criteria, and one for presenting the search result, both with their own toolbars.
Criteria header:
This toolbar have a few functions/options described below:
Current search: - This dropdown menu contains the existing searches. Select one to see its configuration. This dropdown is blank if you are creating a new search on the fly.
Project(s): - In this checkbox dropdown, you can select which projects should be searched. Note: If no projects are checked, that is the same as "All projects"!
Save... - Click this button to save the search configuration. Note that when opening an existing search, modifying it, and then saving will save the modified original search - not as a new separate search!
Subscription... - This opens the subscription dialog for the search, where you can configure if the search should be done automatically and the results mailed to recipients. Read more about it here: Search subscriptions
New search - Clicking this opens up a new search, and blanks out the current selections.
Criterions - and/or searching:
This section is where you define the search criteria to get the matching issues you want. Basically, for each criterion, you add a row, and link all the rows together with and/or.
Add and remove rows by clicking on the (red X/green +) -icons.
Add subcriteria: This option creates a subsection with criterions, which in turn can have its own subcriterions.
How to read the criterions: Each subcriterion is indented compared to its parent. Imagine parentheses around the indented criterions.
Example:

In this example, you should read this as "Severity=Major AND (Status=Assigned OR CurrentOwner!=Unassigned)", meaning it should trigger in either of these two cases:
Severity is major, and status is Assigned
Severity is major, and current owner is set to someone and not unassigned.
Anatomy of a criterion: Each row for a criterion has three parts - the issue field, comparator and value dropdowns. In the example above, they are for the first row: Severity, Equal and Major respectively.
Issue field - This selects the issue field to search on. All issue fields should be available, including all types of custom fields.
Comparator - This have different options depending on the field.

Most fields have a defined set of values, and have these comparators:
Text fields have these options:

Equal
Not equal
Starts with
Ends with
Contains

Numbers, Time and date fields have these options:

Less than
Less than or equal
Equal
Not equal
Greater than or equal
Greater than
Between - this opens up two value fields instead of one (From -To)

Multiselect list fields have these options:

Exactly equal
Not exactly equal
Contains all of
Contains not all of
Contains any of
Contains none of

Value field - This shows the possible values to match on. A few special cases:

Date/time fields show a time chooser where one can enter specific dates or relative times like "Yesterday" or "10 days ago"
Multiselect fields show a checkbox dropdown where you can enter multiple values.
Presentation toolbar
This section contains options regarding the search result and its presentation:
Presentation type: This have several options for presentating the matched issues from the search:

Full content with inline images: Every issue is shown in its own report section, one after each other - making this result page potentially very long. All issue fields are shown, and the full description for the issue. If there are images attached to the issue, those will be shown as well in the issue box.
Full content: As above, but without images.
Full content with history included: As Full content, but includes an issue history section for each issue where you can see changes to the issue, including comments.
Grid/Table view - This presents the issues in a table grid, similar to the Issues page. You can double click on an issue to open it in a new tab, or right click on it to use the context menu. This is the most compact presentation format of the four available.

Sorting - Click on this to set the sorting for the search results. You can sort on three different issue fields (primary/secondary/tertiary)
Group by - Click this to set on which field the search results should be grouped. The default is by project.
Search - Clicking this button performs the search using the selected criteria and presents it using the presentation settings.
Search result
This section shows the matched issues according to the chosen presentation type. All presentations have a print and an export icon, to print/export the search result.
The grid/table view have some additional features:
Refresh - this updates the grid view
Expand all - this expands all groups to show all issues
Collapse all - this collapses the groups to hide all issues
Column sorting - click on a column header to sort on that column. Click again to invert the sorting.
Change columns shown - On the column headers, there are small downward arrows to the right. Click on this to open up the context menu for the column. here you can select what columns should be shown in the search result.