How can contracts be used?
Contracts can be used in the system for different purposes. It is commonly used as a central "contract database" to store all contracts and agreements in your organization, such as customer contracts or agreements with partners or 3rd party suppliers
It is also very common to use this together with Products and Services, i.e. to create "service contracts" for your customers, and then define what products/services are covered by the contract, and what service level (SLA) applies.
Please note that both the contract status and the end date controls if the configured SLA applies to new issues or not.
How do you create and manage the contracts?
The Contracts and Agreements section (click "contracts") can be used to manage your contracts and agreements with your customers and distributors/partners/manufacturers.
On a Contract you can specify which Customer or Supplier the contract is signed with, when the contract starts and ends, if the contract is for specific Product(s) and if a SLA should be used. If Contact is specified it is also possible to send a SMS to the contacts cellphone number.
You can also see billing information on the contract, as well as any custom fields available on contracts, if any.
A Company also has a Contract-tab where the Contracts for the Company is listed.
A sample Contract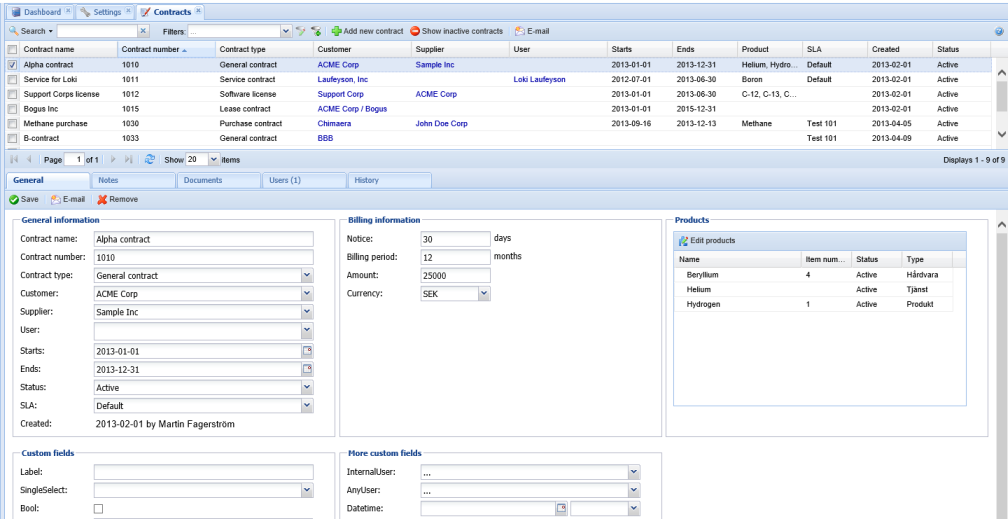 You can have multiple Products on a Contract. The edit product dialog allows you to add or remove products from the contract.
Select a product in the "Available" tree and click on the button, or use drag-and-drop to move it to the "Selected" list.
To remove a product from the contract, just click on the red X icon in the Selected list. This only removes the connection between the product and the contract. The product is not deleted itself.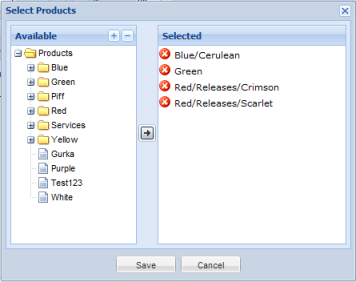 How can I keep track of expiring contracts?
You can easily keep track of when contracts expire by checking the calendar, the agreement date is clearly marked in Red.
You can also get a report/subscription sent out to you on a regular basis, such as weekly or monthly, that contain expiring contracts during the next period. You do this by subscribing to a saved filter/search (See "Filters:" on top of the contract tab), for example see below