The hosted version of VisionProject 6.1 was released on the 11th of April 2010
See below for details about the new features and improvements in this release. If you have any questions or need some clarification in some of the areas, then just add a comment to the KB-article or send us an email.
Note! The installed version will be available on the 14th of April.

Issue management
Tabs on issues
You can now choose to have the different sections on an issue in tabs instead of having them after each other. To enable tabs you have to edit your "User Profile" (available in the upper right corner) and check 'Use tabs in "Edit issue"' in the "Issue settings" section.
If you enable tabs on "Edit issue" you will see this:

Links to project documents on issues
The ability to add links to project documents and project document folders has been added. This gives you the ability to keep documents stored in the "Documents"-tab and only link to the documents from one or more issues.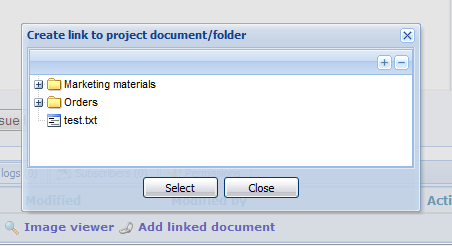 Make an issue read-only for certain groups and users
On the permissions on an issue you can now choose that a group and/or user should only have read-only access.

Improved resource allocation on versions
You can now see the "Estimated time" vs. "Available time" for a user on a version, as well as on the "Issues"-tab if you group on Developer and have selected a version.
New standard issue field: "Product"
This field will show all items of type "Product" that you have added in the "Product tree". This will make it possible for you to keep track of affected products/components on your issues
New custom issue field that contains specified items from the "Product tree"
You can add custom fields that shows all items from a node in the "Product tree" (and below) as well as filter out specific item types.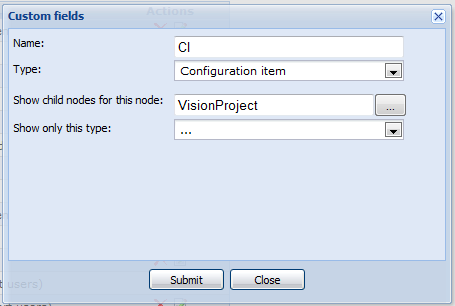 Company management
Improvements on company information: company type, status, customer number
New fields on Company:
Company type (add your own types in 'Settings -> Company settings -> Company types')
Company status (add your own statuses in 'Settings -> Company settings -> Company statuses')
Customer number
The search has also been improved and you can now search on every fields on a company.
Import Companies from csv file
The ability to import companies from a CSV files has been added.
Usability improvements
Several usability improvements throughout the system such as making it easier to adding existing companies and users which is useful reporting new issues or sending new emails.

Miscellaneous
Product/component tree
A "Product/component tree" has been added. Many of our customers develop, deliver and manage products or services of different sorts. So with the new module you can track and store information about any type of product, service, system, component or asset. Using the "product" you can also keep track of what product/component that an issue or task affects or relates to. All issues/tasks that a product/component is linked to is visible on the issue tab.
You can find more information about the product/services/components module here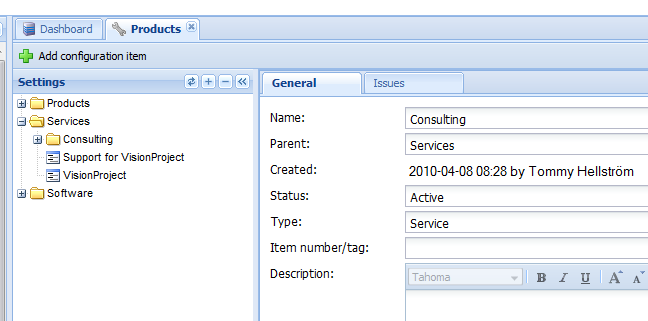 Timeline showing versions and issues grouped on project
A Timeline that shows versions and issues grouped on project has been added. It is available from the "Action"-menu in the "Projects"-panel to the left. This view is read-only at the moment but stay tuned for a full-featured timeline with editing capability in the near future.
French language support
The heading says it all...
Issue attachments is now sorted on create date. Latest on top.
The heading says it all...
Improved SVN integration
SVN Committs are now visible in an integrated tab. SVN settings on the project now include new sventon 2.x links
Web service API
Read/update for System user settings
New fields for Customer (Customer number and Customer status)
New fields on ProjectIssue (permissionForUsers, permissionValueReadOnly)
Bug fixes
Yes, a few bug fixes has made it into this version as well.