VisionProject 5.4 was released on the 13th of December 2009

See below for details about the new features and improvements in this release. If you have any questions or need some clarification in some of the areas, then just add a comment to the KB-article or send us an email.

Issue management
Add import/export to MS Project
You can now import from and export to MS Project. The import and export supports sub-tasks as well as relationships (FINISH-FINISH and FINISH-START).
This function is available in the Issues tab under two icons "Export" and "Import".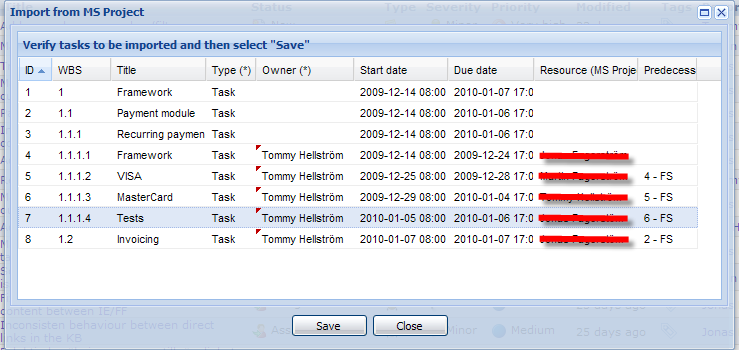 Add action to upload documents for builds
When creating a build using a HTTP POST you can now also upload a file.
When adding a document on an issue the issue history should be updated
The title says it all... :-)

E-mail ticket system
Improve reply templates in reply to correspondent with variables
You can now add variables in your e-mail ticket system templates. These are the supported variables:
Full name
First name
Last name
Priority
Severity
Owner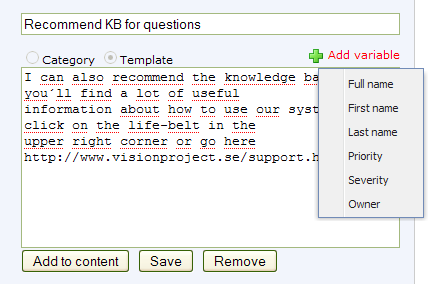 Ability to configure how to manage e-mail replies
You can now let VisionProject include the original message automatically when doing "Reply to correspondent" and also if each line should be prefixed with a specified character or not. Specify nothing in "Prefix each line with:" if you do not want to have any prefix.
This setting is available in the Profile.


Miscellaneous
Make it easy to create new email / outgoing communication
You can now easily send a new email to a user in your project. This is available in the "New issue"-menu in the Issues-tab.
Ability to specify attributes when doing a commit to Subversion
When doing a commit to Subversion you can now specify additional attributes, such as issue status and also add a work log.
Make it possible to configure if a project should be opened by default
Configure VisionProject to open a project automatically when logging in. This setting is available in the Profile as well as in the "Projects" tab when viewing a user.
Add the ability to have "commands" when replying from an email client
If you receive an email notification to your email client that a support user has responded on an issue you can now do a reply directly from your email client to send a response to the support user. Just do a normal reply and let the Subject start with REPLY.
The reply will be processed by VisionProject, the text "REPLY" in the subject will be removed and then the email will be sent to the support user. The reply that you sent will also be inserted in the issue.
Expanded terminology options to include 'issue'
Predefined options for 'Issue' are included for english and swedish (Other languages can still edit the key values directly in the interface).
You can now substitute for example, 'Task' for 'Issue' in VisionProject.