Active links can be used to keep issue fields synchronized between issues.
You can specify an active link both when copying an issue as well as when creating an issue link.
This is useful in many scenarios such as:
For incident and problem management (see ITIL)

You can link many incoming support issues (incidents) to one common bug (problem) that is to be fixed for a certain release.
This means that many customers can send in issues related to the same root cause (problem)
These common support issues (incidents) are then linked to the same bug (problem) using active links
The bug (problem) is usually transferred to another team in another project for fixing
The bug (problem) is then planned for a release (such as a patch release) and then fixed
Notifications about status changes are (normally) automatically sent out to customers to keep them updated and informed. Usually it is a good practice to send out more information than less, i.e. so customers don't have to regularly ask you what the progress is. This could be that a bug fix has been scheduled to be fixed, work has started, testing has been started, it has been completed and then finally deployed or sent out to the customer.
See diagram below for an example ...

When splitting up work between projects or teams. You can then get delegated status information, such as when a sub task is completed etc
When you want your customers (support users) to see/follow project related tasks that they have reported/created in another project. For instance you may have one "open" change/ideas/suggestion/support project that employees/customers reports issues into and then a separate project where they will be planned, performed and tested. Using active links, the users can still follow issues/tasks from the change/ideas/suggestion/support project that they have access to.
And more...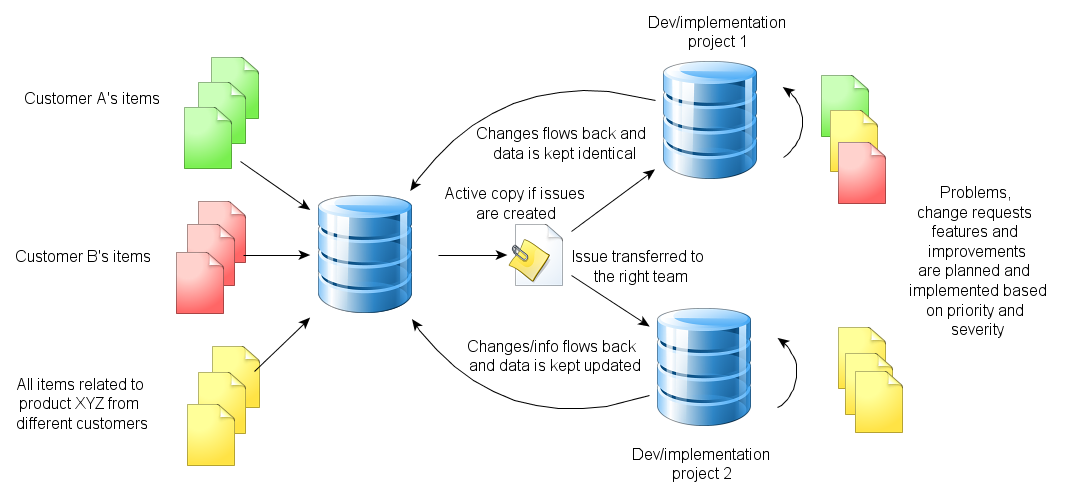 Active reference
When creating a new issue link you can specify the link to be an Active reference. The direction of the reference can be active in both ways or in one way. These are the names of the Active references:
Active reference both ways
Active reference to (from this issue to the linked issue)
Active reference from (from the linked issue to this issue)
Active copy
When copying an issue you can specify that is should be an Active copy. You can also specify the direction of the "active part" of the copy.

Update of an issue
When you update an issue that has an active copy/reference to another issue, and you have changed an issue field that you have configured to be updated in the Active copies/references configuration (see below), you will get a question if the active copy/reference should be updated as well.

Project specific settings
By using Project specific settings you can decide how links between project should work. You decide from and to which projects the issues are linked as well as which issue field whould be linked.
Mark that each setting is done "one way" so to set up identical links between two projects you have to create two separate settings.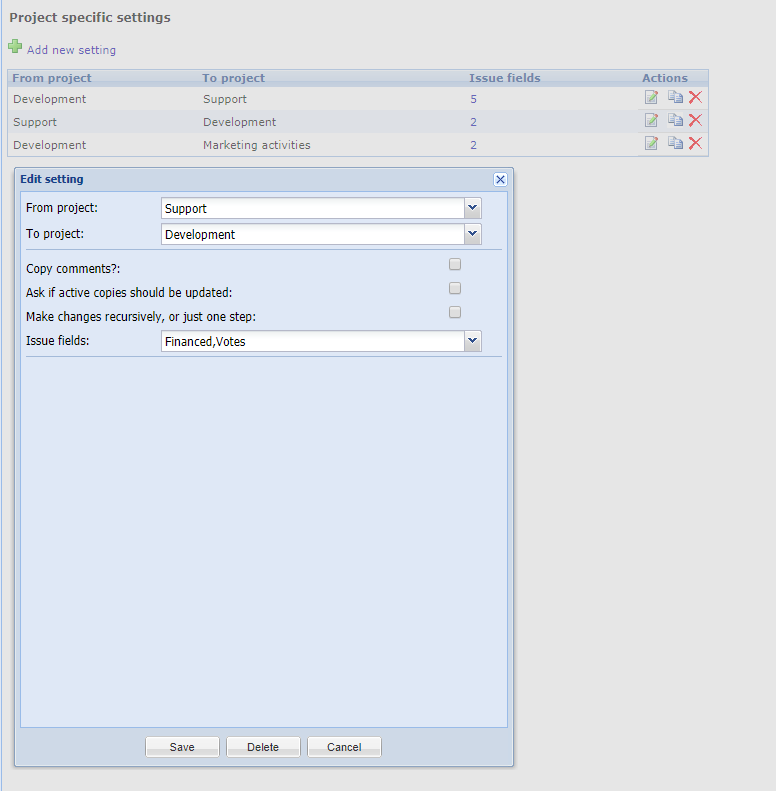 Configuration
The configuration of active links is done in 'Settings -> Issue configurations -> Issue links'. There you should configure which issue fields you would like to synchronize. If you for example have one "Support / Helpdesk" project and one Development project it might be a good thing to synchronize the status field so Support issues always have the same status as the Development issue.
You can read more about the configuration here: Issue links setting