A user can be a subscriber on any number of issues. Adding users as subscribers will make it clearly visible that the issue is of interest to him/her. This will also enable the user to get notifications on events (even though the users normally shouldn't according to the workflow).
You need to add "Subscribers" to the relevant notification events for issue subscribers to get the notifications, though.
When viewing an issue you can see a section called 'Subscribers' where all subscribers of the issue are listed.

If you want, you can also have show a 'star-icon' in the "Issue list" on the Issues-tab. The star-icon will be yellow if you are a subscriber of an issue and grey otherwise.
To enable this, open your Profile (top right), choose Settings tab, section "Issue settings", and check the option "Show an icon for issue subscriptions in issue lists".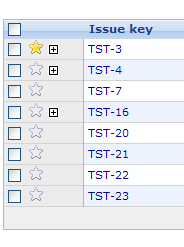 Email notifications
When users are subscibers to issues, VisionProject will send them email notifications according to "subscriber"-recipients rules in the project notifications setup (See 'Settings -> Notifications' on the project).
Note: Make sure "Subscribers" recipient is added to all notification events that an issue subscriber should get notifications for.
So even though the user normally should'nt get emails about events according to the workflow, he/she can now stay informed about changes.
Permissions
The role permission 'View Issue Subscriptions' have to be enabled if the 'Issue subscriptions' section should be visible on the issue for a user.
The role permission 'Can add others as issue subscribers' have to be enabled if the role should be able to add other user than herself as an issue subscriber.