The Cumulative Flow Diagram gives you a tool to tracking progress in your agile project. It plots the total scope and the progress of individual Features/Stories/Tasks/etc.
The Cumulative Flow Diagram is available from the Kanban board.
Cumulative Flow Diagram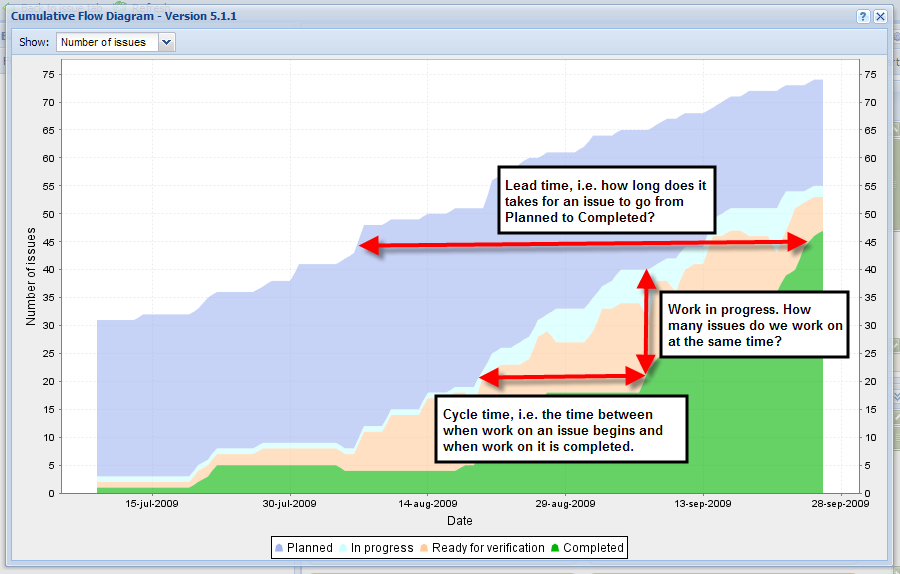 Lead time
The lead time of a project represents how fast you can reliably deliver to your customers. You should strive to get your lead time not only as low as possible, but also to make it consistent over time.
Cycle time
The cycle time shows how long your issues are "In progress". You should strive to make this value consistent over time as it is an indicator that you have equally sized stories/tasks.
Work in progress
In agile development you want to have short development cycles and deliver value to your customers as often as possible. This is where "Work in progress" matters. With little amount of "Work in progress" you have shorter "lead time" and "cycle time". Do one thing at a time to be as efficient as possible and use the Cumulative Flow diagram to pin-point problems in your process.
References
Using Cumulative Flow diagrams