What are expense types?
Expense types are a way to group expensed according to some theme. They are used for sorting the expenses.
VisionProject doesn't come with any expense types by default, but it is easy to add ones that are relevant for you..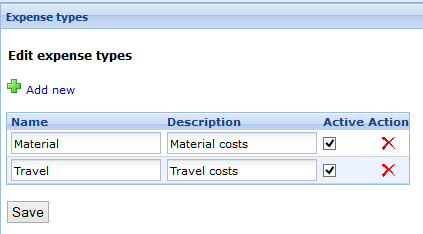 Name and Description are self-evident. Action - currently only the Delete action is available.
Active: Only active expense types can be chosen when you create an expense. This is useful to inactivate older types that you do not want to use any more. Those types can then not be used in new expenses, but remain on old expenses.
The table in the page shows all current work log categories. You can edit the name and description right in the table, and click save to update the text.
Add new - this shows a section where you can enter name and description for a new expense type. Save it by clicking "Add".