This is where you configure the issue workflow for a project
The workflow controls the automatic change in ownership of an issue when its status changes.
The page has three sections, 'Add new workflow', 'Current workflow' and 'Valid status changes'.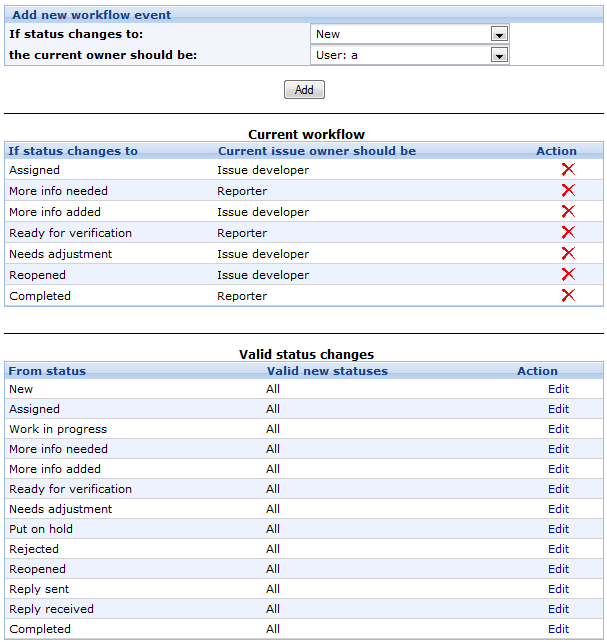 Add new workflow
To create a new workflow, just select a status (that the issue changes to) and a user (who should be the new owner of the issue) in the drop down lists, and click on the 'Add' button.
The dropdown list 'If the status changes to' lists all statuses on the project not already covered in the Current workflows (see below). To change a workflow, select to delete the action in the Current Workflow first. The status will then be available in the dropdown list again. You can now add the status again with the workflow you wish to have.
The dropdown list 'the current owner should be' lists all non-support users in the project, and two special values: - Responsible developer (The user set as developer) and Issue creator(The user who created the issue).
Current workflows
This table shows the current workflows, as described for each workflow under the columns 'If the status changes to' and 'The owner should be'. The Action column currently only have a delete option. Click on delete to remove that workflow row.
Valid status changes
This table shows which statuses you can set an issue to, for a given current status. For example, if you want a new issues to only be able to change to assigned, completed or rejected, then you would have a row that reads like this: 'New', 'Assigned, Completed, Rejected' respectively for the columns 'From status' and 'Valid new statuses'. The 'Action' column only have the edit option, see below.
Editing a valid status change: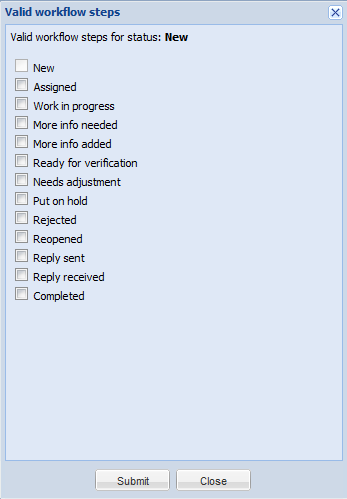 This opens a dialog with checkboxes for all statuses. Check those statuses you want to be valid for the given 'From' status. You cannot select the from status itself.
By not choosing any statuses, all statuses are automatically chosen.