This is where you can configure email notifications for project events
This page contains a table of events and recipients (users that are to be sent email notifications) for when the event triggers. The table shows all active notifications, so if it is empty, that means you currently have no notifications for the project.
Note: Recipients of notifications must also have the setting "Receive notifications" in their user profile settings to get notifications at all.
If a user have problems getting any notifications, it may be a good idea to check this setting.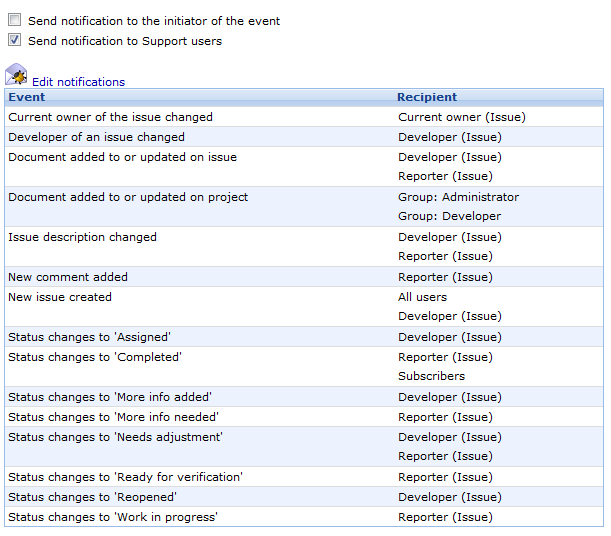 The checkbox 'Send notification to the initiator of the event' controls whether a user should get a notification for something that the user is the cause of.
For example, if the checkbox is checked, and you are a recipient of the notification 'New issue created', you will get a notification email everytime you create an issue. The default for this setting is unchecked - i.e you don't get notifications for events you generate.

The checkbox 'Send notification to Support users' controls whether a support user should get a notification for a notification event.
Note that the support user must match a recipient to get a notification as usual. For example, if you notify the issue reporter about new comments, then if this setting is used, the reporter will get a notification even if he/she is a support user.

The Edit notification page is where you configure your notifications.
Select an event in the drop-down list, and mark the relevant recipients. Don't forget to click Save before moving on to the next event.
The events include many different events, like new or edited issue, change to a status(all statuses for the project are in the list), new/edited document, Owner/Developer/Owner Group changes, etc.
The recipients include:
User groups - Notifies specific user groups.
User - Notifies specific individual users in the project
The creator/reporter of the changed issue
The responsible developer(or assignee depending on terminology settings) of the changed issue
The current owner of the changed issue
All users - This notifies everybody on the project
Subscribers - Notifies users that have subscribed to the issue that is changed
Owner group - This notifies everybody in the same user group as the owner of the issue.
Attendees - Notifies users that are attendees to a meeting that is changed (available from version 8.0)