The Edit Project Info page contains the core settings/info for the project.
The page has three sections, described below. Edit the fields and press the Save.
Note: this information has been added as a section in the project settings instead of a page of its own.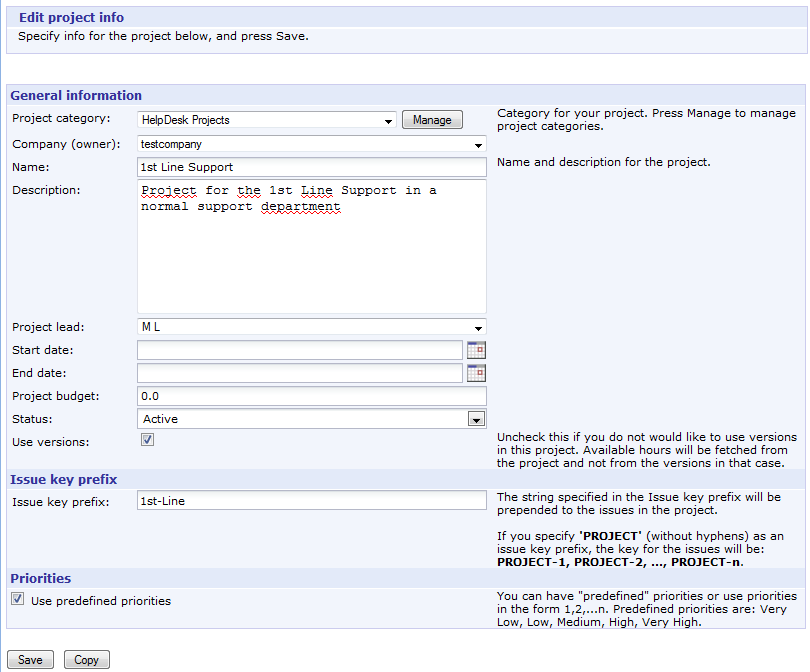 General information:
Project category - Projects can be grouped in categories, which besides being descriptive helps navigating the projects panel to the left. Select a category in the dropdown list. If no category is suitable, click on 'Manage' to open the project category editing page, to create a new category or edit an existing one. You can find more information about managing categories here.
Company (Owner) - Which company owns the project.
Name - The name of the project.
Description - In short, what the project is about
Project lead - Which user has the project lead role.
Start date - Project start date.
End date - Project end date.
Project budget - The budget of the project. Currently only a text field.
Status - Active or inactive. Inactive projects are not shown in the project list. Note: You cannot delete an active project, you have to set it as inactive first! Inactive projects are visible in the project panel actions -' show inactive projects'. Find more information about how to delete a project here.
Product - the Product/Asset/Config item associated with the project.
Use sprints - If the project uses sprints at all. Note: What we call sprint is known by many other names - iteration, version, milestone, etc.
Project custom fields:
This section is only shown if you have any custom fields on the project. The fields are grouped on sections. You can configure project custom fields and their grouping in the account settings (General - Settings - Other settings - Custom fields - project)

Issue key prefix:
The string entered here will be used as a prefix for the issue keys in this project. If you use, say 'ABC', then all project issues will be named [ABC-1], [ABC-2], etc.. Use something that is specific to the project, and short if possible. It is highly recommended to have a prefix to easily know what project the issues belong to.

Priorities:
Check this if you want to use the predefined priorities (Very Low, Low, Medium, High, Very High), instead of the numbers (1,2,3,4 and 5).
Copy button: Clicking this will make a copy of the current project. You can find more information about copying a project here.