This is a simple forum where users can post messages.
Posting messages in the forum topics is a possible way of communicating in a project.
The Forum page has two functions just under the tab. If you don't have any forums, the page will be blank, and these functions are the only thing you see. Note: You need to have at least one forum category to create a forum, so if you start from scratch, you need to first create a category, then a forum.
Create forum - Here you can create a new forum. Choose Category, enter values for name and description, set the access, and check the box if the forum should be available in the support center. Press save to create the forum.
Edit forum categories - Here you can create several categories used for the forums, and which order they are in. Just enter names and press update.
You will see all forums under their respective categories. Each forum can be deleted or edited by clicking on the action icons (if you have the correct access).

You can edit a forum by clicking on the edit action button. You can set permissions on a forum to restrict it to specific user groups. You can also set a forum to be read-only for certain groups as well.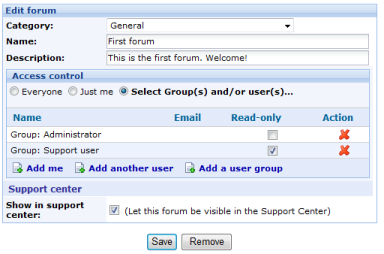 Click on a forum name in the forum index to enter it. In the forum view, you can see a list of topics, and you can create new topics as well. Topics can be edited and deleted by users with the right access, or by the topic creator.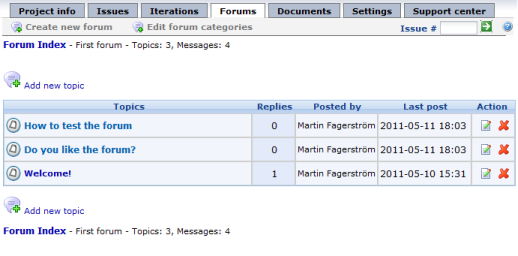 Click on a topic to read the topic thread. This will show the topic, and all posts below. You can click on a link to post a reply to the topic. Posts can be edited/deleted by their creator, or a user with the right access.