In VisionProject you can add expenses either to issues or to projects.
Adding expenses to an issue
In order to add an expense to an issue you open the edit issue view, and find the section/sub-tab named "Expenses":

Here you will see a table view of all the expenses registered on an issue. In the Action column are functions for editing and deleting existing expenses.
To add a new expense, you click on "New expense" which will open the expense dialog: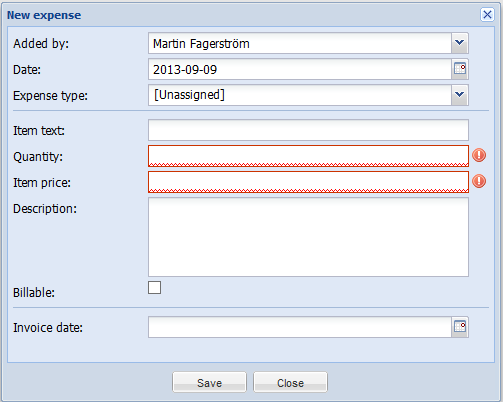 Here you can create a new expense (or modify an existing one) on an issue by specifying the following fields:
"Added by" - Select the user that has added the expense (Mandatory)
"Date" - The date the expense was added. Defaults to the current date (Mandatory)
"Expense type" - The type of expense. The different expense types can be defined by each customer in the settings (more info on this can be found in the article about "Manage expense types"). (Mandatory)
"Item text" - A brief specification of the expense (Mandatory)
"Quantity" - A numeric value specifying how many units was used (Mandatory)
"Item price" - The numeric price of each unit (Mandatory)
"Description" - A more detailed description of the expense
"Billable" - If an expense should be able to be invoiced.
"Invoice date" - The date when this expense was invoiced
Adding expenses to a project
Sometimes expenses can be related to a project and not to a specific issue, in which case it is also possible to add an expense directly to a project. This is done in the "Project info" tab on the project: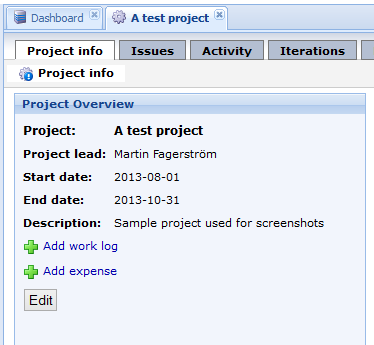 To get an overview of all the expenses on issues and projects you can use the "Time report" that is found in "General/Reports/Time report"