VisionProject 4.1 was released 10 November 2008
Here you can find what has changed in VisionProject 4.1.
Ability to add new issues directly in the issue table

Now you can create issues as easy as you type on a text editor, directly in the issue list.

Added documentation and samples for "Simple forms"
The ability to create issues with forms outside of VisionProject is what we call "Simple forms". This is great if you have your own website where you would like to collect any information, such as, signup for demo, contact me-form, etc. One example of a Simple form is the one that we have in our website (www.VisionProject.se). Click on the Personal demo-button.
Made aggregated fields read-only for parent issues if sub-issues are used
If sub-issues are used with aggregation on time fields, the time-fields on the parent issues will be read only. This is for the fields: Estimate time, Actual time and Remaining time.
Added Copy/Transfer to the context-menu on issues
The Copy/Transfer function is added to the context-menu on issues.
Warning when concurrent modification in edit issue and reply to correspondent happens
If you save an issue that has been modified by another user you will get a warning about that so you can copy your changes, reload the issue and paste the changes back.
Ability to create new companies directly from the user info dialog
Now you can add new companies directly from the "User info"-dialog.
Added "Last visited issues"-area in the left-panel
In the left-pane, below "Online users", a new panel has been added that lists the 10 latest issues that you have visited.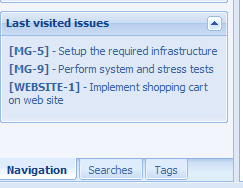 Add the ability to choose which issues to show in My open issues
In My Open issues panel on the dashboard you can choose if you would like to see the issue where you are the owner, the developer and/or the reporter. Recentlyit only showed the issues where you where the owner.
Visual compare of old versions of HTML and TXT files
Lets you see the changes between versions in an very easy way.
Image viewer - ability to view image files in the Document archive as well as on issues
A very slick Image viewer for your images in the Document-tab and on your issues.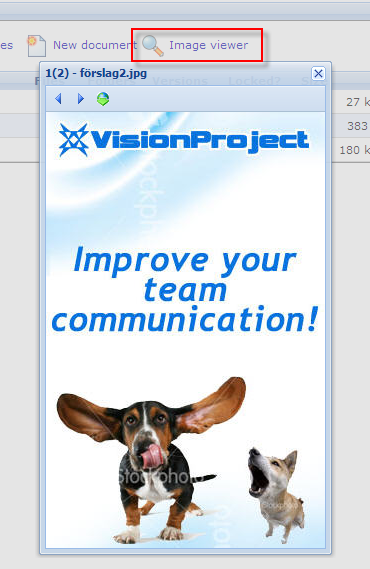 Add To: and Cc: fields from emails to the description
To: and Cc: fields is included on the issue receiving emails using the Email ticket system.
Added ability to group by: issue, user and date in the time report
The time report has been enhanced with grouping ability
Bug-fixes
Yes, even an issue/bug tracker has a few bugs... :-)