The hosted version of VisionProject 9.0 was released on January 19th 2013
As usual new version includes many new features and improvements requested by our customers!
All new features are visible in the

idea management section in the the support centre on the tab "Planned" for our customers.
The most important improvements are also highlighted below:
Issue / case management
Active links has been improved to include votes. This means that you now easily can rank your product backlog in your development team based on the votes added in another part of the system.
More document features has been added to the issue view. From the attachment tab it is now possible to lock and edit a document.

Fig. 1
You can also do mult-upload of files. Editing of documents has been improved so it will not lock the screen as before enabling concurrent editing of documents.
Search and filtering
Added search filters on tables for saved searches as well as on users/contacts making information easier to find. (Also see Fig. 3)


Fig. 2
Service / product / configuration management
Added field for setting the criticality of a service/CI.
Added search filters for the issues/cases table making it easier to search and find data quickly.
Added a product parameter "productName" (the parameter uses @ as a prefix character) to Knowledge base to make it possible to write product independent articles. The productName parameter is replaced with the name of the CI you have specified on the KB or in the parameter sent in.
Time management
It is now possible to add time intervals for work log exceptions, making it easier to mark when you are on vacation etc.
User/contact management
New fields on user for created/modified date.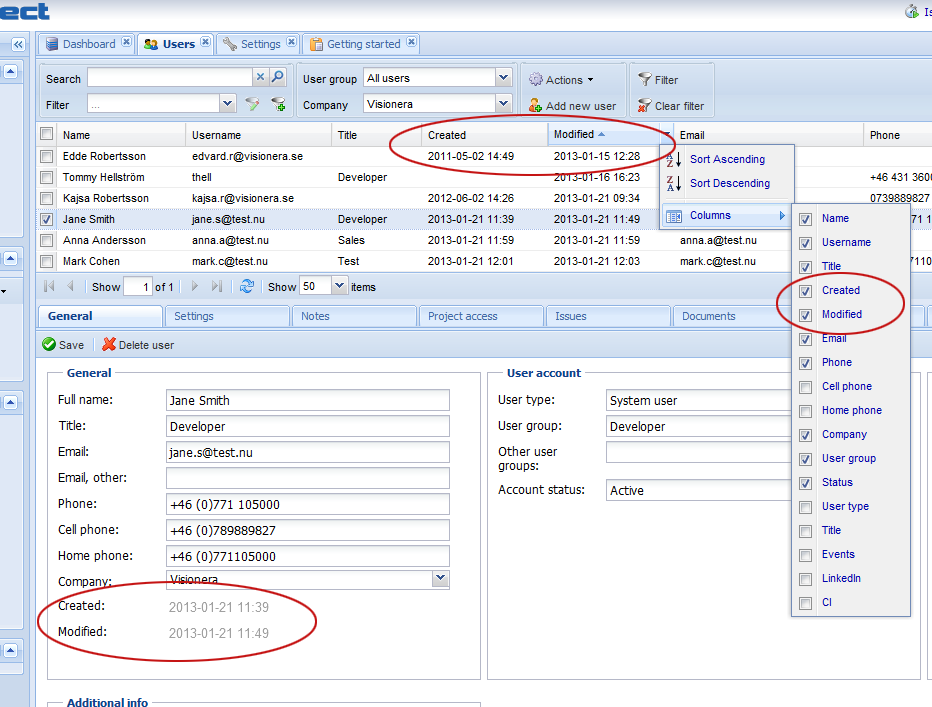 Fig. 3
Added search filters for the main users / contact table making it easier to search and find data quickly.
Time line (gantt) view
Performance improvements making scrolling and loading significantly faster.
Installed on-premise version
Improved verification functionality, making the installation procedure better/easier.
System footprint and performance. Several improvements throughout the system making the system perform better with less resources, especially for large clustered installations.
Misc
Several minor bugs and improvements have been fixed/implemented throughout the system.