Copying projects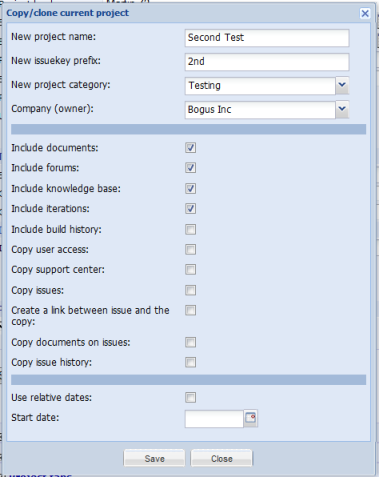 Go to a project, navigate to the edit project page (Project page - edit project page), and press the button Copy.
A Copy project dialog will show, with the options available for the copy/clone project. By default, just the project settings will be copied, but you can choose to include many things in the copy, like issues, documents, user accesses, et c.
New project name - This field must be set. Preferably to give the new project a distinct name.
New issueKey prefix - You can leave this blank, but it is recommended to have this. Change this to something other than the parent project, to minimise mix-ups.
New project category - by default this is the same as the parent project. Change this if the child project location is somewhere else.
Company (Owner) - The company set as owner to the copied project.
Include documents - copies all the documents from the parent project.
Include forums - copies all the forums from the parent project.
Include knowledge base - copies the knowledge base from the parent project.
Include sprints - Makes copies of the sprints from the parent project.
Include build history - copies the build history from the parent project.
Copy user access - Gives users the same access to this project as the parent project.
Copy support center - makes a copy of the support center, with same settings.
Copy issues - copies over all the issues in the parent project.
Create a link between issue and the copy - Check this to create an issue link "Copied to/from" between each original issue and issue copy when copying project.
Copy documents on issues - Copies over documents attached to issues.
Copy issue history - Makes a copy of the issue history from the parent issue to the issue copy.
Use relative dates - check this to adjust all dates in the copied project and its issues/sprints/etc. They keep the same time intervals relative to the project start date, but the dates in the copied project will be calculated from the start date given for the copied project. This is useful when using template projects.
Start date - here you set the start date for the copied project.
Press Save to create the new project copy.
Project templates
One good use of the copy project functionality is to create a few default projects to use as templates for creating new projects. For example, if you have created a template for let's say - creating a website, then every time you are going to create a new site, you can just go to the website template project, copy it, enter a new name and issue keys, and you will have a new project with relevant settings, issue types, fields, etc. You could for example have a whole project category that just consisted of template projects to help in creating new projects.