VisionProject 4.0 was released 1 September 2008

This is by far the most significant version ever. A lot of new great features has been added as well as major improvements to the user interface that makes the day-to-day usage of VisionProject easier than ever. As usual, a majority of all new features have come from you, our customers, and we are greateful all the feedback that you've sent us.
You'll notice that the user interface has changed right away when you login. We have used the Ext JS framework more extensively in the new version which gives VisionProject a fresh and even more intuitive look and feel. For an overview over all new features in and improvements in version 4.0 have a look below.


User interface
The major point in this version is the new user interface - it is a total rework using the Ext-JS framework. It should improve greatly the way you work with VisionProject.
The Start page has now a "portal look" and all projects, searches, tag views, etc, loads in its own tab. This gives you the possibility to have more than one project active at a time. This is great if you are working with more than one project and other switch between the projects. The left-side-panel has been enhanced and it now contains: links to major functionality (e.g. Users, Companies, Time, Configuration), projects, active users, saved searches and a nice tag cloud.

Overview of recommended settings
Read about recommended settings for better user experience of VisionProject here: Recommended settings

Navigate/working with tabs
The new navigation is based around a tab and panel structure. For a more detailed information on how to navigate in the new VisionProject, go here: How to navigate/working with the tabs

Dashboard
The dashboard is the new start page in VisionProject and contain quick links, frequently used functions/information, portal functionality and a good starting point for your work in VisionProject. Read more here: Dashboard
Contains links to the most important functions, as well as projects, saved searches and tags. Read more here: Navigation panel

Hidden gems
Some things may not be obvious - like some context menus. Discover them here: Hidden gems / Subtle features
The visual appearance of VisionProject has changed a lot, as you can see below
Issue management
Tags on issues
You can now add any number of tags to your issues. This gives you a very flexible way to categorize the issues and make searching for them easy.
Read more here: Tags
Edit tags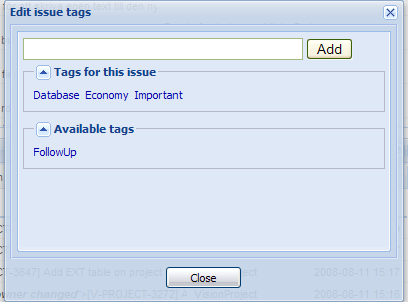 Tag cloud available in the left-hand-side panel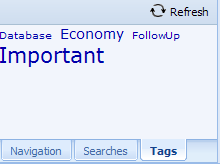 Enhanced Custom fields - they are now handled exactly as normal fields
Before VisionProject 4.0 we had project specific custom fields and that was good but it had some limitations, for example you could not use them in Filters/Saved searches. Now we have account specific custom fields that works exactly as the old issue fields. You can set permissions, filters on them, export them, etc. We recommend that you convert from the old-type custom fields to the new ones. Read more here: Enhancements in Custom Fields
Context menu on issues in issue lists
Everywhere an issue is shown you can now right-click on the title which shows a context menu. From that menu you can change issue fields, create sub-issues, perform a delete and a few more options, without even opening the issue.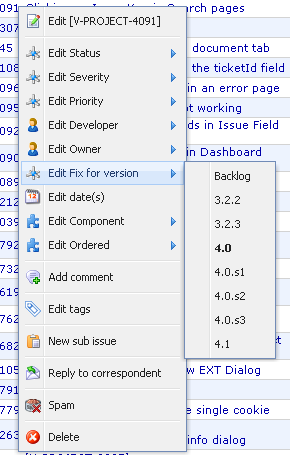 Ability to have calculated times on parents (from sub-issues)
On a project you can choose to have the "time-fields", i.e. Estimated time, Remaining time and Actual time to be aggregated from sub-issues to parent issues. That is, the parent will always show the aggregated value from all sub-issues. This makes it easy to make time estimates based on sub-issue. For instance, you could have multi-level requirements that is broken down into tasks, and then give you an estimate total.
Progress column added in issue lists
In the issue lists you can show a nice progress bar that displays "Remaining time" vs. "Estimated time".

New Issue fields - billing amount, cost amount, fixed price, fixed time
We have added some issue fields which are used for resource/cost management. If you use this, you could for example see planned vs. actual cost, how much money you can bill for a specific issue and so on. Read more about resource management below.
Ability to search quickly on issue key, title, description and tag in the "Filter mode" on the "Issues-tab"
The filter mode has been improved so that you also can search for certain text fields without even opening the search dialog, making it easy and fast to find the issye you are looking for.
Read more here: Text Search in Filter mode
Project management
Copy/clone projects + project templates
You can now copy a project. When doing so you can also choose which parts of the project you would like to copy. Everything from a project can be copied onto the new project. This is great if you have similar projects as you can create a template project and then simply copy the template project to create all other projects. See more information here: Copy/clone projects and Using project templates, respectively
Improved time tracking
Time tracking has been improved, and given a tab of its own, where you can make time reports et c. Read more here:Improved Time Tracking
New Resource management
You can now manage billing rates and costs for reported time on a project level, according to different strategies. For example, setting billing rates on work categories, or on individual users.
New project summary page with key data for each project
This is a page that lists all projects that a user has access to and you will see some key data and a summary about the project in an easy-to-read format. Read more here: Project summary page
New fields on a project
Start date, end date and project lead has been added to the projects.
Document management
Revisions on documents
If you activate version/revisions on documens for your projects you can keep a history of all changes made to the document. This is very useful, for instance when keeping track of requirement documents received by customers etc.
Read more here : Versions on documents
Possible to lock documents
You can now lock a document, to prevent simultaneous editing. See more here: Locking documents
Quick edit-save of any document
It is now very easy to open up, edit and then save a document in VisionProject using your prefered editor. Just klick on the edit document icon to open it, after editing edit it and save it in the editor, you will be asked if you want to uplad the changed document into VisionProject. The old slow-type of editing, is now history where you: "Downloaded the document -> Found the document -> Opened the document -> Edited the document -> Edited the document in VisionProject -> Chose to upload the document". More information here: Quick edit-save of any document
Ability to see all issue documents for a project in one page
On the Document tab a new sub-tab has been added which shows all issue documents for the issues that you have access to. The other sub-tab is the original document tab, now renamed project documents. Read more about the Issue documents page.
User management
Improved User page
The Users page has been improved, and now is a paginated table. No more extremely long user lists for companies with many (mainly support) users, resulting in long loading times. The page also has functions for user search and management. Read more here: The Users page
Miscellaneous
Improvements of the web service API
The web service API has been updated with the latest changes and some new methods has been added. This is reflected in the new wsdl and in the JavaDoc.
Ticket system rules enhancements
The ticket system processing rules has been enhanced to offer even more flexibility for processing incoming emails. Read more here: What is Processing Rules?
Ability to add "issue documents" in reply to correspondent
When doing a "Reply to correspondent" you can now include "issue documents" in the response, i.e. documents that are attached to the issue that you are responding to.
Personal notes on Start page
An easy to use "Personal notes" area has been added to the Start page. Good for stuff that doesn't fit as issues but that you still have to remember.
Recent activity on the Start page
A Recent activity area has been added to the Start page. The changes that has been done to issues and documents are listed here. Note: only changes within the last two weeks are included.

Ability to view the User Information dialog directly from the issues lists
If you have a column that displays a user in an issue list, e.g. Owner, Developer or Reporter, you can now click on the name and a User Information dialog will be shown. See more information about the User Information dialog below.
Enhanced "User information dialog"
You can now always click on a username and show a "User information dialog". From that dialog you can choose to show all issues that the user has created (in a new tab) as well as all issues that all users that comes from the same company has created.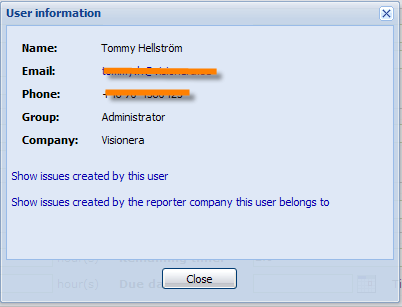 Ability to create filters/saved searches that lists issues that isn't included in a version
The matching of versions has also been changed and is now exact. Previously, if you had "4." it would give you issues from version: 4.0, 4.1, etc. Now you should instead specify the exact match, and separate the version numbers with comma, to get issues from more than one version, e.g. 4.0,4.1.
Workflow enhancements
You can now define which "valid statuses" you have for the next step in the workflow. You can for example configure VisionProject that from the status 'New' the only valid statuses next should be 'Verified' or 'Assigned'. This is great for teams that have users who are not following workflow conventions... :-) Read more here: How to use Workflow
Notifications can be sent to initiator
Notifications can now be configured so the "initiator" of a Notifications can be notified as well. Many new users of VisionProject have thought that notifications didn't work because he/she didn't receive a notifications of a change. The actual problem was that notifications prior to this version was never sent to the initiator.
Knowledge base
The knowledge base has been reworked with a new user interface as well. Read about it here: How to use the Knowledge Base
Tree for navigation
Easier navigation among your nowledge base articles with a left-hand-side tree.
Rating of an article
You can rate an article, and see if articles are rated by users as good or not.
Marking articles as outdated
Articles can be flagged as outdated, alerting those responsible for the knowledge base that those articles should be rewritten to be up to date.
Adding comments on articles
Users can now comment on individual knowledge base articles.