Issue templates allow you to "pre-fill" field values of new issues. It can help a lot when you are doing the same thing repeatedly or if you have standard procedures.
In a template you can configure and set: issue field values, issue Documents, issue Subscribers and issue Permissions. You can also add sub-issues which will then be "inherited" in the same manner as the rest of the template.
Issue templates are project specific and you edit them in the "Issue template" menu available in the Settings-tab on the project.

Issue templates that you have defined, will be available as options in all the places where you currently can create issues:
"New issue" in the "Issues"-tab
"New issue" in the upper right
The Issues-tab on a company
The Issues-tab on an user
The context menu in the Projects-tree.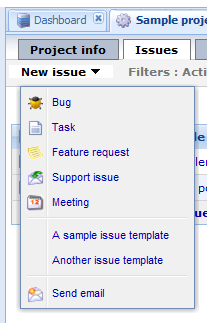 Converting an existing issue to an issue template:
In addition to creating an issue template from scratch, you can convert an existing issue into a template.
To the right, you have a section showing different issue templates. There is also a button "Save this issue as a template".
Warning: Once an issue has been made into an issue template, you cannot reverse it.
If you have an existing issue that you want to make into a template - first copy the issue, and make a template of the copy instead.