It is possible to automatically create issues (task / activity / case) according to a defined interval using "Recurring issues".
When you make an issue a "Recurring issue" the fields on the issue is used to create the "Recurring issue template". You can set all fields that is available on the issue and you can also add Documents, Subscriptions and Permissions.
A "Recurring issue" is created by clicking on "Add recurrence" when you are viewing an issue:
You can specify nearly all intervals you can think of: daily, weekly, monthly, quarterly and yearly: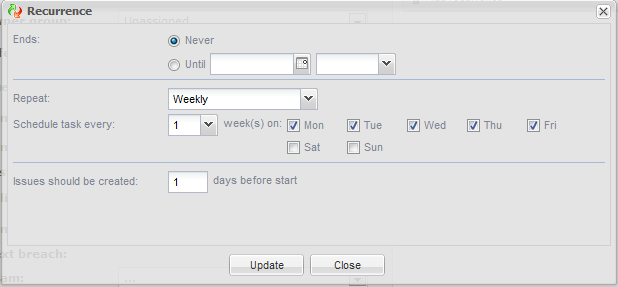 1. Select if the recurring series has an end.
2. Specify the interval for the recurrence series
3. Specify how many days before Start (or Due date) the recurring issue should be created.
Result: You will never forget a recurring task or meeting again.
How to enable the recurrence feature:
Recurrence functions is made available by the setting in users Role permissions. Go to General-Settings-Roles/groups and enable "View recurrence" and/or "Edit recurrence".