The hosted version of VisionProject 8.0 was released on the 25th of February 2012
See below for details about the new features and improvements in this release. If you have any questions or need some clarification in some of the improved areas, then just add a comment to the KB-article or
send us an email
.
We also want to send out a special thanks to customers that have been involved in testing and giving feedback for the new functionality in this release.
The installed version will be released on the 6 or 7th of March
Issue Management
In the past we have received a lot of requests and great suggestions from our customers to improve our calender functionality to make it work more like in Outlook and other calendars. This has been our main goal for the 8.0 release.
New issue type - Meeting
A new default issue type "Meeting" is now available in your account. You can also flag any existing issue type as "Meeting type" which is very useful since we know that many customers already have different issue types that represents a meeting (events, courses/training etc).
To use the new issue type on your project just activate it in you project settings --> issue types section. To set an existing issue type to meeting, edit it and select the "Is meeting" checkbox
Alerts and reminders on tasks/meetings
One of the great new features is the ability to add reminders and alerts directly on issues/tasks/meetings. When the time for a reminder is reached, such as 30 minutes before a meeting, or at a specific time. The user will receive a reminder notification email and get a popup-alert reminding you you about the meeting (if any of the chat modules are used)



To use this, you need to activate this functionality in the "General --> Settings --> Roles/Groups --> Role permissions --> Issues"
Recurring tasks
With the recurring task functionality you can specify if you want a task/issue to repeat, such as every day, week, year.

To use this, you need to activate this functionality in the "General --> Settings --> Roles/Groups --> Role permissions --> Issues"
Calendar and meetings
Send invitations
For meetings we have added a special attendee section. This is where you add the persons that should participate in a meeting.
When adding attendees, you also have the option to send out an invitation via email.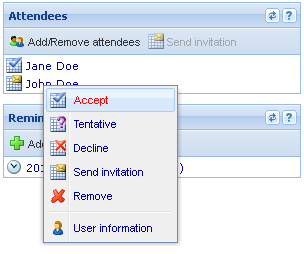 Accept meeting invitations
This makes it possible for you to accept a meeting directly in your email client (such as Outlook, Thunderbird or Gmail). You can also accept meetings directly in VisionProject, either by clicking accept on the issue or in a popup (if you are using any of the chat modules)

To use meeting invitations you need to use the email ticket system in your project.
Misc changes
Knowledge base - Filter articles on product/service
We have now added the capability to filter out KB articles based on product/component/service(CI). This makes it possible for you to create separate KB's for your different products/servies if you like, as well as search for the articles relevant to these.

Internationalization (i18n)
It is now possible to specify language on the user profile. This will change language in the user interface to make it more user friendly.
Note that this language change do not affect fields whose names are saved on the account/project, like issue fields, names of statuses/issue types/priorities/severities, names of the project tabs etc.

Extended terminology
We have extended the terminology settings to make it possible to specify different names for the product/service catalog (CMDB) from the items therein.
Collaboration - Mass email to project users/participants
To improve collaboration we have made it easy to send emails to other project team members.
User/contact management -

Merge users
It is quite common that you receive emails/issues from users that have used different email addresses or userId's but they are the same person, for example a corporate email address and a personal one. In these cases it becomes useful to merge users. To do this now is very easy, just select multiple persons in the users section and use the action "Merge selected users"