The hosted version of VisionProject 7.5.1 was released on the 7th of January 2012
See below for details about the new features and improvements in this release. If you have any questions or need some clarification in some of the improved areas, then just add a comment to the KB-article or
send us an email
.
The installed version will be released on the beginning of the week that starts on the 9th of January.
Issue Management
Ability to add up to 40 custom fields per "Issue Field Configuration"
You will now be able to have up to 40 custom fields per Issue Field Configuration.
"Time spent" in worklogs will now handle the formats: 2.5, 2:30, 2h 30m
When creating (or editing) an issue worklog you can now use any of the following formats: 2.5, 2:30, 2h 30m, 150m.
Reports
New reports for viewing Issue distribution on different standard fields
Issue distribution reports has been added for the following fields: Status, Type, Severity, Priority, Source, Owner, Developer, Reporter and Company.
You can choose to show them as a "Pie chart", "Bar chart" or "Line/Trend chart".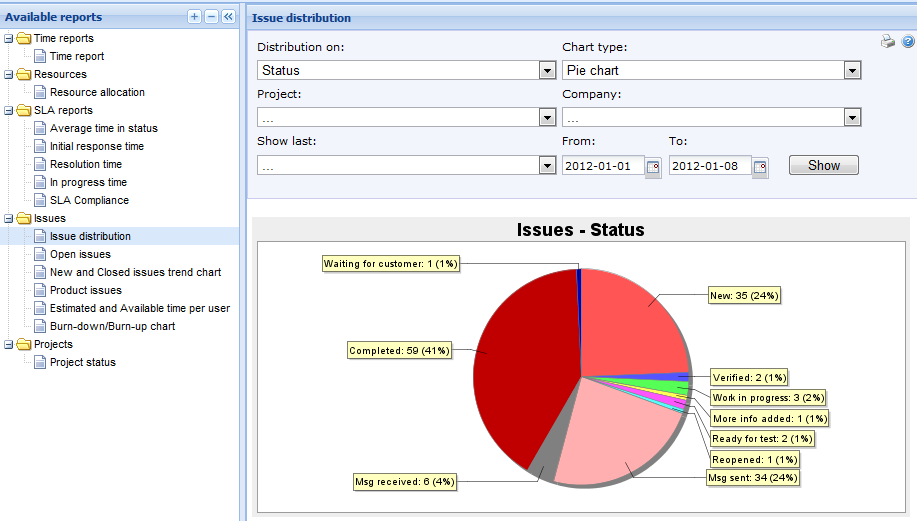 You can also choose to show the Issue distribution for issues when you are on the "Issues"-tab in a project.
Configuration management (Product management)
A History log is now available for Configuration items
Just like for Users, Companies and Contract you now have a History for Configuration items.
Miscellaneous
Web Service API - project documents that is linked from issue can now be fetched
The object Document now contains an attribute: 'isLinkedProjectDocument' so when calling the methods 'getDocumentsForIssue', 'getDocumentsWithContentForIssue' and 'getDocumentWithContentForIssue' you will see if the document is a linked "Project document" (isLinkedProjectDocument == true) or if the document is attached on the issue (isLinkedProjectDocument == false).
Worklog plugin
A plugin (Java class) can now be created which will be called when a Worklog is created, edited or deleted (Installed version only).
The standard spell checker in Chrome and Firefox will now work in the HTML textareas
We have activated the standard spell checker for Chrome and Firefox in the different HTML textareas that is used.

The timezone on your account will be used when creating new users
The heading says it all...