The E-mail ticket system gives you the ability to configure a project to create issues and issue comment based on incoming e-mails.
This is especially useful in support/helpdesk scenarios where you have a dedicated e-mail address for support issues, or by having a mailbox for bug-reporting, feature requests and so on. For example, it is common to use email addresses like support@company.com, info@company.com , sales@company.com, and similar for the ticket system. The support users might be customers, end-users, or anyone who want to know more about your products or services, for example.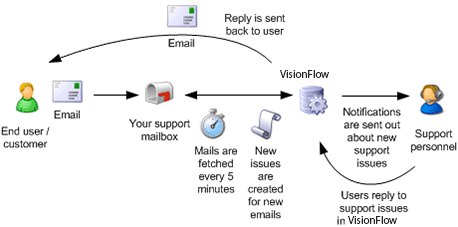 Here's how it works:
A support user sends a message to your support e-mail
VisionProject checks your mailbox using POP3 or IMAP
If a new message is found VisionProject either creates a new issue or adds a comment to an existing issue
If desired, VisionProject sends an automatic reply to the support user.
Once the message is in VisionProject it is just like a normal VisionProject issue that you can schedule and prioritize.
You can at any time send a reply to the support user, perhaps to request more information.
If the support user reponds to your reply, a comment will be added to the existing issue instead of creating a new issue.
A complete history of the correspondence will always be kept and a support user will never see "normal" comments on issues so you can have private communication about the issue in your team.
Press here to get to know how to set up the email ticketing system for a project.