The hosted version of VisionProject 7.2 was released on the 12th of June 2011
See below for details about the new features and improvements in this release. If you have any questions or need some clarification in some of the areas, then just add a comment to the KB-article or send us an email.
The installed version is scheduled for release on the week that starts 13th of June 2011.

Configuration management
Multi select for Product/service/CI field
It is now possible to multi-select Configuration Items (CI's) for the custom field of type "Configuration Item". See Settings --> Issue Configuration --> Custom fields

File/document management on products/CI's
It is now possible to store files on Configuration Items in the Product/Service tree. This is useful in many scenarios such as for saving latest builds or patches of the software that you are developing/maintaining.
New Release field, dependent on product field
To simplify release management we have now added two new new pre-defined fields: "Release" and "Affected release" which are dependent on the Product field. The release field shows all releases (CI's of type release) that has been added to a product in the tree. This means that you first need to select the product and then all releases for that product will show up in the releases/Affected releases field. "Release" only selects one release, while "Affected Release" allows you to select any number of available releases.

Notifications
Improved notifications for support users
To make it easier to keep support users updated of status changes on their issues we have now improved notifications for them. We have also made it possible to change these "email notification templates" (see general settings).
It is possible to adjust the look and feel for the following notifications:
Added comments
New issue
Status changed
Description changed
Added notification templates
Two new notification templates were added, to make it possible for you to customise the messages sent out to new users, and to users that have forgotten their passwords. These were formerly system generated messages:

Searching
Improved quick search
To make it easier and faster to search and find data in the system, the quick search feature has been improved. We have added new filters, you can now filter on Owner, Reporter, Company as well as "Modified the last"(you choose the timeframe). We have also made the search a little quicker by limiting the search scope automatically based on several criteria such as "All open projects"
Improved string matching options: 'Adam' OR 'Bert', 'Adam' AND 'Bert'. "Adam with Bert"
Improved advanced search presentation with grouping
You can now choose to have (almost) any issue field in your columns for the search presentation grid view- including custom fields.
We have improved the search result by adding grouping capability - you can now group on almost any column. You can also see sums per group for the time fields (Estimated time, Actual time and Remaining time)

Access and permissions
New access model Company/Partner access
The new Company/Partner permission model makes it possible for you to invite companies and partners into VisionProject and easily limit access to data for them throughout the system based on what companies/clients they should be allowed to see. It could be that some users should only see their own company's data or just some of your customers/clients.


Issue management
Improved quick-add feature on issues
It is now possible to choose which issue fields that should be available when using the "Quick add issue". You can choose to show Status, Dewveloper, Reporter, Current Owner, Owner Group and Estimated time, in addition to the always present Title, Type and Description.
Context menu has been added in the "Latest issues"-panel
The issue context menu was missing in the "Latest issues"-panel, this has now been implemented.
All issue fields are available in issue portlets and issue search results
You can now choose to show any issue fields in the columns of portlets or search results.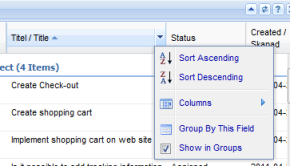 Click on the column header to see the column menu icon (small down arrow). Right click it to expand the column context menu, and select Columns. This should present you with a long checklist - check the fields you want to show.

Chat
A lots of improvements of the "corporate chat" and the Support chat, such as:
You can now use a separate XMPP/Jabber client (such as

http://www.pidgin.im

) to chat through VisionProject (with intact logging and traceability)

Chat notifications have been greatly improved so that chat messages can't be missed

It is possible to set Status on users, such as Online, busy or Away

It is possible to set a status text, such as "Fetching coffee" or "Working on XYZ component"

It is easier to navigate directly to the support issue for a chat after the chat session is closed

Misc improvements for usability, performance and flexibility

SLA management
Start date should be added as a new SLA target type
We've added the "Start date" field to the SLA Target definnition. This is useful in many scenarios, such as :
for tracking on-site service levels where you need to be on-site within a certain time frame
for monitoring that you start working with tasks within a certain time frame
etc.

Companies/Customer Management (CRM)
File/document management on companies
To improve the CRM aspects of VisionProject we have now added the capability to store files/documents on companies. This is useful for storing all customer related documents in one place, such as:
Customer Invoices
Quotes
Bakground information
Custom reports
etc.

Time/Worklog management
Worklogs can be set to invoiced
Worklogs now have a new field "Invoice date". If this is set, the worklog is set as invoiced, and can be hidden in the Time report.

Project management
Users as a new project tab, Resource availability moved into Users.
The Users tab has been moved from its position as a sub-tab to Project Info to a project tab of its own. The Resource availability sub-tab has also moved from the Project info tab into the new Users sub-tab. Users currently have two sub-tabs:
Users - showing the users on the project, as well as the option of managing them
Resource availability - for noting how much work each user can do each week.

Document management
Document functionality are now available on Companies, Product/Service/CI's, Contracts
Document sub-tabs have been added to Companies, Contracts and Product/Service/CI pages. You can now store documents and folders on these objects.
There are a number of document related functions as well - Upload, Download, Download as zip, Edit, Copy, New folder, Delete).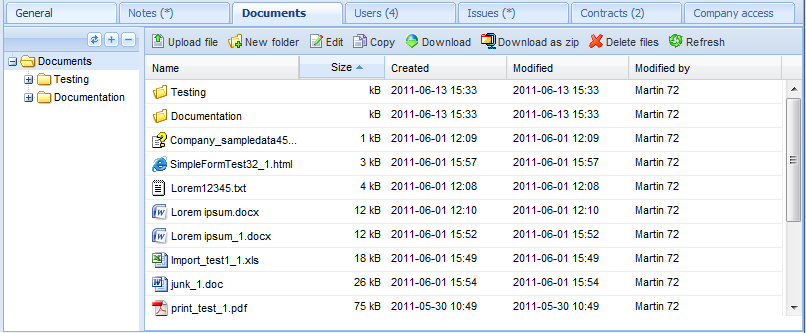 Support Center
Unified support center - you can now make several support centers available in the same view
For each support center, you can now choose whether it should stand alone, or be grouped with others in the Unified support center. When you open a support center that is unified, you'll see a dropdown list at the top, where you can choose to view the page in another support center. For example, you could look at issues in Support center A, then just change to B to see those issues, et.c.

Miscellaneous
Added terminology support for "Project"
In the terminology settings, you can now replace the term "Project" in VisionProject with a word more suitable for how you work, like "Process" or "Workspace".
Bugfixes
Quite a few bugs were fixed in version 7.2 as well!