This user tab shows all issues the user have reported.
The issues grid shows all issues where the current user is Reporter. Please note that issues where the user is owner or responsible/assignee/developer is not shown in this tab.

Click on a column header, and then on the small "down" arrow that appears to edit the column configuration. You can sort the table on that column (ascending or descending), or edit which columns that should be shown. Most issue field columns are available to be shown here.
The issue context menu should also be available here, allowing you to quickly update some issue fields.
Functions in the Issues sub-tab:
Refresh: This refreshes the grid. Useful if some data is changed in another tab
New Issue: This function will open up a context menu where you can create a new issue on the current user. Choose which project and which issue type, to create a new issue. This will open the "New issue" page in the relevant project.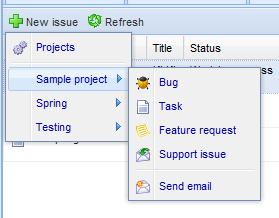 Send email - You can send email to the current user by selecting this option. The mail will be created as a standard mail issue (default: Support issue). Note that the project needs to have a configured email ticket system.