The support center is a light-weight simplified web portal. Users of the support center only have a limited access to VisionProject and don't have access to your whole account, i.e. it is a public area for your projects in VisionProject.
Other names for the support center is "contact center", "service center" or "service desk" or "Single Point Of Contact" (SPOC). It can be used to easily communicate with customers/end-users/individuals. It is especially useful if used as a help desk or customer support/service organization, but can also be used in projects where you want a clear communication channel with customers/individuals. It includes a lot of bundled features to make it easy for you to offer good support to your end-users/customers (we call these users "support users" in the system), or to publish information about your projects
Below you can see an example of a support center, you can also see and test our own support center here: https://www.VisionProject.se/SupportCenter.do?supportCenter=8USa0ec8CyGSgfbfPTSV

The Support Center consists of six main modules, namely:
Here you can read more about how to activate the support center.
The Support Center allows you to manage your support phone calls and emails in a simple and efficient manner. The entire system has been designed to improve productivity and to make it easy for you to give your customers and end users support 24/7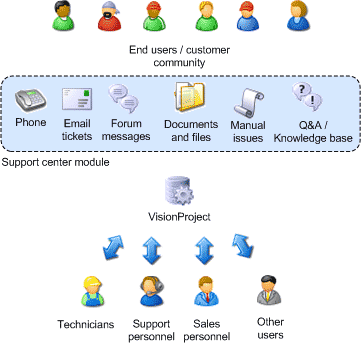 Automate your support email management
The most common way to manage support issues are through regular emails. As you can see n the diagram below, by using the VisionProject support center this is very easy. All you have to do is to configure the support center to fetch emails from you support mailbox using either IMAP or POP3, issues are then fetched and converted into support issues in VisionProject every other minute.