This is where you can configure external links to be shown in the General panel to the left.
This functionality allows you to add links to other websites as easy shortcuts placed in the General panel.
When these links are clicked, the URL is opened in its own top level tab in VisionProject. This is a good way to have sites of interest readily available while working.

New general link - click this to open the add/edit link dialog.
The table of General Links contains these fields:
Title - The name of the link as shown in the General panel.
URL - The URL to the website the link leads to. This must be a full URL, including the http section. "www.boguscompany.com" will not work.
Order - These numbers reflect the internal order of the general links themselves. All general links are placed after the standard function icons in the panel, such as Dashboard, Search, et cetera.
Icon - The icon for the general link, if any.
Actions - These functions are available:

Delete - This removes the link.
Edit - This opens the add/edit general link dialog.
The add/edit General Link dialog: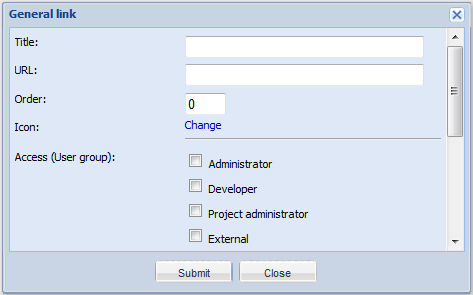 Title, URL, Order and Icon are as described above.
Access (User group) - Here you select which user groups should be able to see the General Link. This is a good way to create links that only some people need to have, and not clutter everyone elses General panel.
Note: You should log out and login again, to be sure that you will see the new link in the General panel, after saving a General Link.

Creating a general link that opens a specific knowledge base tab:
This works as above, the difference is what you write in the URL field: "loadKB(x)", where x equals the projectId of the project whose KB you want to show.
Here you can read how you find out the projectID