Iterations (Sprints or Milestones or Versions) should be used to organize your project and tasks into manageable parts or "sub-projects".

(Note: We will use some Scrum terms, see Wikipedia for more info about scrum, in this article but you can apply this technique in whatever iterative project management method you use.)
It is a common way to plan and execute project in iterations/sprints. An iteration normally spans over a number of weeks, normally 2-4. For each iteration you add a work-load of tasks/activities that should be completed during the sprint.
For software projects a number of iterations/sprints are followed by a release of the software.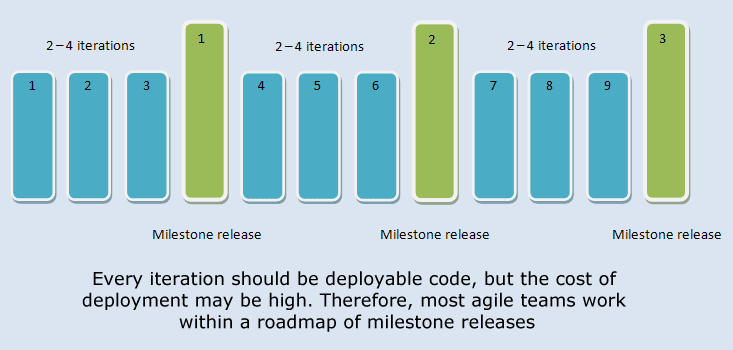 The work-load should match the people that you have available in the project. What requirements/tasks you choose to implement in the different iterations should be based on business value and ROI, so this is naturally up to you!
What you can do in VisionProject to simplify the work with iterations, and to match the scrum terminolgy more closely, is the following:
Create one version for each of your iterations, for example: R1-Sprint1, R1-Spring2, R2-Sprint1, etc.
Any task/issue that isn't assigned to a sprint would be in the general project backlog, or you can create one version named "Product Backlog" where you keep these
Add requirements/issues to the versions/sprints
For each of the sprints you will get a filter that shows the specific requirements/issues that belongs to the sprint/iteration. This mean that you easily can get a view of a sprint backlog.
As an "Optional step" use the 'Estimated time' and 'Remaining time' fields on the issues and you will get have a crystal clear Burn-down chart available in the Versions tab that will show you the current health of the current iteration. See here for more information about the burn down chart
If you want, you can also create filters for the currently logged on user, that only shows his/her issues in the current sprint, i.e. where he/she is assigned as the Owner or Developer.