VisionProject 3.1 was released July 2007
Ability to create subissues
Issues can now have unlimited number of sub-issues with unlimited depth. The sub-issue feature has to be enabled for each project where you want to use them. If you have enabled sub-issues a new column to the left in the Issues-tab will be available. In that column a "plus-sign" will be available if an issue has any sub-issues. When you click on the plus-sign the sub-issues will be displayed. A new section is also added in the "Edit issue"-page. In that section you can see sub-issues and the progress for them. This is also the place where you add new sub-issues and choose existing issues to be sub-issues.
"Issues tab"

The "Edit issue" page

Subversion integration
Integration with Subversion has been added. You configure a few parameters in your VisionProject project, add a post-commit hook in your Subversion installation and then you just have to add your VisionProject issue-key in the comment when doing a commit and the commit information will be available in the "Edit issue"-page! You can also integrate a version control viewer applications such as Sventon, ViewVC, etc.

Completely flexible statuses, priorities and severities (create, edit, delete)
Statuses, priorities and severities can now be changed, added and removed. You can choose if you want display the status, priority or severity as an icon, as text or as both icon and text.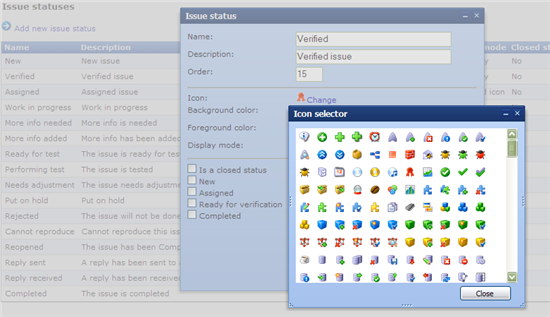 Burn-down charts
By using the Estimated time and Remaining time fields you will always have a great overview on the progress of your versions. A new "Burn-down menu" in the Versions-tab has been added and on that page you can update the Estimated time and Remaining time for all your issues in a specific version and also see the updated Burn-down chart.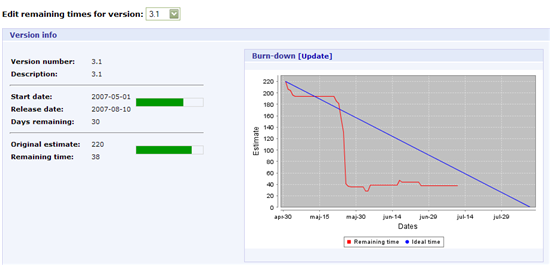 New "Quick search"
A new Quick search has been added. The Quick search is available at all time in the top-menu. You can search on Title, Description, Issue key and Issue history. The Quick search is performed in a really nice dialog without moving from your current page. With this new "Quick search" we decided to remove the "Quick search" that was available in the "left-slideout"-panel.
New issue from the top-menu
A "New issue"-menu has been added to the top-menu. This gives you the ability to create a new issue from any project regardless which project you are currently working on.
Ability to create a new user directly from the New issue page
When you are creating a new issue and have the support center enabled you can now create a new "customer user" directly from the "New issue"-page. This is perfect if you want to quickly create a new user when you are handling a support call over phone.
Ability to add separators in the Issue Field Configurations
The ability to add "separators" to the New issue and Edit issue pages has been added. With this feature you can group related issue fields together and "separate" the groups with a "separator line".
Issue field configuration preview
When you are working with your Issue Field Configuration you can now Preview the configuration and easily see how the different "issue screens" will look like for different issue types and for different users.
Improved comments view and history log on issues
In the Issue History log you can now choose to view "All", "Changes only" or "Comments only". The choice is of course remembered so you can use what you prefer.
API - create issues, list issues, etc.
A completely new API has now been added. It is a SOAP API with functions to list, create and delete: user, project, issues, etc.
"Customer companies" has been added
You can now create Companies and set a user to belong to a company. A new issue field named Reporter company is also added and that field be used as a search criteria as well as in the Filter mode on the Issues-tab.
Internationalization, support for Swedish
The user interface is now available in Swedish and support for more languages will follow shortly!
Document tab improvements, total size of all files, number of files, multi upload/download
A new very nice multi-upload applet has been added, as well as a multi-download feature that lets you select the files that you want to download and get them in a zip.
LDAP integration