It is possible to send out a satisfaction survey to the reporter of a case/ticket/issue.
This means that the person will receive an email X hours after a ticket has been closed.
The email contains a question "How would you rate the customer service you have received?" and two simple buttons "Good" or "Bad" that the user can click. The user can also add a comment at the same time if he/she wants.
This is how to enable this:
Go to Project --> Settings --> "Customer Survey" section and check to use the survey, and also set the number of hours the system should wait until sending the survey email.
You also need to have the field "rating" on the case/ticket/issue for this to work. Add it in the issue field configuration settings (General - Settings - Issue configuration - Issue fields).
The "rating" issue field must also be editable by support users - expand the 'edit access' section for this field in the issue field configuration. Then set the permission for support users to Read/Write.
The mail will look like this: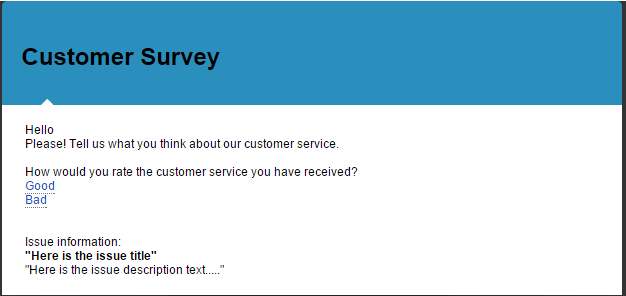 And when rating the user will be directed to a survey page:

The mail text and appearance can be fully edited, both in the cloud and installed version. However the survey page can only be edited if you are using our installed version.